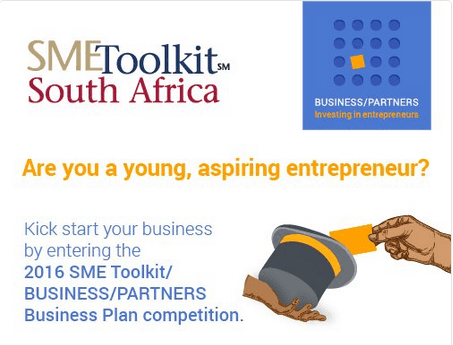 Application Deadline: July 29th 2016
Do you want to open your own business, but don't know where to start?
Provided by Business Partners Ltd, South Africa's leading investor in SMEs
Enter the Business Plan Competition and you too can be a winner – calling all aspiring young entrepreneurs aged between 18 and 35
Everybody is a winner – all participants will be invited to attend a full-day workshop to learn how to compile a business plan, and more
The SME Toolkit is proud to launch the 2016 Business Partners Limited / SME Toolkit SA Global Entrepreneurship Week's Business plan competition for aspiring young entrepreneurs, which is aimed squarely at you or at someone you know.

The Competition is divided into three phases:
First, you enter to win a seat at a "Creating an effective business plan" workshop in an area near you. Workshops will be conducted during 10 to 19 August – exact dates and venues still to be confirmed)
You then submit a business plan to qualify for the regional judging by 9 September 2016
Regional winners will be awarded (10 to 14 October 2016) and go on to compete in the national competition, which will take place during Global Entrepreneurship Week on 10 November in Johannesburg
Requirements
To enter the competition, you have to be:
Between the ages of 18 and 35
A South African citizen
Aspiring to start a business, but haven't started operating yet
What do you have to do to enter?
To enter, download and complete the application form, accept the rules of the competition and remember to put your best foot forward.
What can you win?
Besides the great exposure you get by being a finalist or winner, there are a range of prizes to help you get your business off the ground. This includes Business Partners Limited Mentorship for both the regional and national winners, as well as a R25 000 cash prize for the national winner, and more. All those who submit a business plan will also receive a complimentary 6-week Marketing and Sales e-course offered by SA Business Hub.
Deadline
We need to receive your entry by no later than 16:00 pm on Friday, the 29th of July 2016. So don't delay! Enter now and move one step closer to getting that business off the ground!
Select one of the following ways to submit the entry forms:
E-mail to:      [email protected]
Fax to:         011 713 6650 Attention: Business Plan Competition – SME Toolkit
Deliver to:    Any Business Partners office country-wide. Clearly mark envelope "SME Toolkit Business Plan competition – attention B Davids (Corporate Services)
Download the entry form in MS-Word, save to your device, complete and send it
For More Information:
Visit the Official Webpage of the 2016 SME Toolkit Business Plan competition