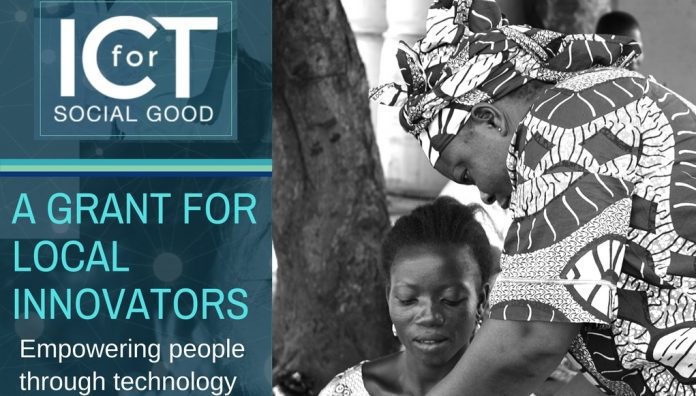 Application Deadline: April 30th 2017
ICT for Social Good is a grant for local innovators in low-income countries within the program "Innovation for Development"
The ICT for Social Good is now accepting applications for its grant program "Innovation for Development" to sustain, as much as possible, local innovators in low-income countries but also to inform the development sector too often still based on traditional intervention models about local innovations.
"ICT for Social Good" is part of a broader framework, "Innovation for Development", a large feasibility study on innovation within the international development sector promoted by three italian foundations: Fondazione Cariplo and Compagnia di San Paolo, in collaboration with Fondazione Mission Bambini.
Objectives
Raise the awareness of stories and examples of local innovation in order to sensibilize the operators of the Italian development sector, often focused on traditional intervention systems.
Focus on the potential role of the ICTs that are emerging in the development sector as tools able of support solutions to poverty thanks to higher access and diffusion chances.
Identify, value and award organisation that can already prove their social impact thanks to the application of digital technologies already available.
Promote and encourage partnerships between actors from the South and – the North of the world. The program believes that the collaboration between organisations based in different geographical contexts represents an added value that can entail better results.
Eligibility Criteria
The requirements of the candidates are:

To be a Non­profit organization or social venture/enterprise that is led by a social purpose and tackle social issues
To be an association, cooperative, NGO, individual enterprise, consortium at least since 6 months
To have the endorsement ­ a statement that assesses the good work made by the candidate ­ of an authority that can be either internationally (UN agency, development agency, international NGO, etc.) or locally recognised (University, research centre, government, regional institution, etc.).
Each candidate can submit a maximum of two projects South­North partnerships are welcome.

The projects, based on the use of ICTs, have to fulfill the following requirements:

Be focused on one or more of the following themes: food security and food sovereignty, water and sanitation, health, education, human rights and activism, inclusive and sustainable development
Be realised in one or more of the selected countries of Africa, South and Central America, Balkans and Asia regions
Be active from at least 6 month
Be able to prove the impact by means of reliable data and documents
Funding Information
The winner will receive a 12.000€ grant.
An official ceremony will be hosted in Italy during the final event of the Innovation for Development framework. Italian entrepreneurial and research realities will be present in order to know the project and, possibly, sustain it.
Fondazione Mission Bambini will offer a special grant named "ICT 4 Children" equals to 10.000€. The grant will be assigned to the project more aligned with the Foundation's mission and focused on children.
For More Information:
Visit the Official Webpage of the ICT for Social Good Development Grant 2017