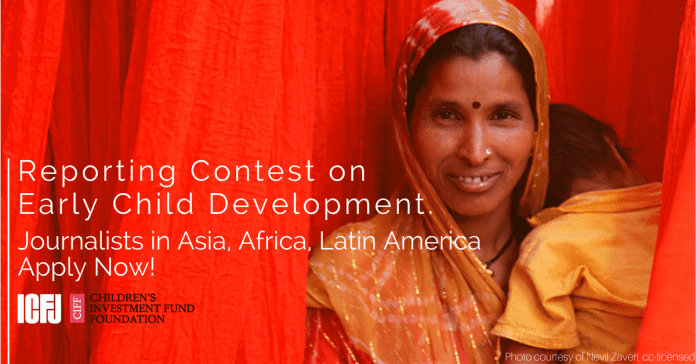 Application Deadline: December 1st 2016
Journalists in Asia, Africa and Latin America have a chance to win a prestigious international study tour as part of a contest to recognize the best stories on early childhood development.
ICFJ will recognize in-depth, investigative or innovative reporting that has helped raise awareness on issues such as early nutrition, early child care, early education and their impact on a child's future well-being and contributions to society.
Experts on early childhood development say that proper nutrition in the first 1,000 days of a child's life has lasting impacts on his or her future.

Eligibility:
The contest is open to journalists from Asia, Africa and Latin America. Entries must have been published or aired between June 1, 2016, and December 1, 2016, and may include feature articles; in-depth, investigative or explanatory stories; multimedia reports or documentaries.
The contest is open to print, broadcast and online journalists employed by a media outlet as well as affiliated freelance journalists.
Submitted work must have appeared in a media outlet based in one of the regions.
Stories must be submitted in English. Works in any other languages must include an English translation
Winners will be chosen in three categories: best report, best visual storytelling and best data-driven story. Each winner will receive a cash prize and a week-long trip to the United States to meet with global health experts and digital media pioneers.
Contest topics may include:
Causes and solutions for malnutrition in children under 5
The link between under-5 nutrition and learning ability
Quality of health care and/or child care for young children
The impact of child poverty and efforts to alleviate it
Reproductive health and its impact on child development
Latest neuroscience on early child development
Power of play and cognitive development
Importance of investing in the next generation
Entries will be judged by an international panel of media and child development experts. Winners will be announced January 5, 2017.
For More Information:
Visit the Official Webpage of the Reporting Contest 2016 on Early Childhood Development