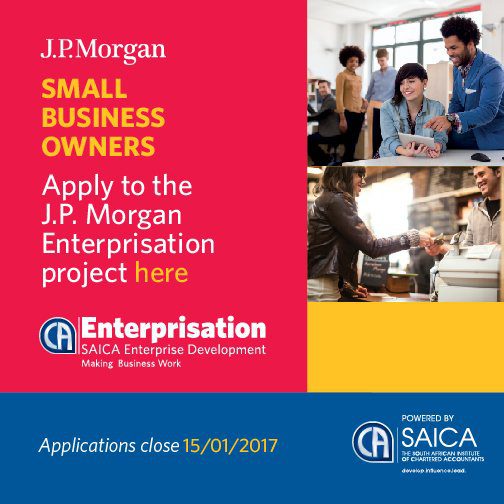 Application Deadline: 15 January 2017 Midnight.
One of the key factors behind South Africa's high small and medium enterprise (SME) failure rate is a lack of basic financial literacy skills. Enterprisation Development Programmes like the South African Institute of Chartered Accountants' (SAICA) Enterprisation Hub help SMEs overcome this by providing business owners with crucial back office accounting support and financial training. Having assisted more than 120 SMEs over the past three years, Enterprisation will now be providing this support to a futher 100 Gauteng-based SMEs, thanks to a new flagship project undertaken together with J.P. Morgan.
Through the Enterprisation J.P. Morgan flagship project, 100 Gauteng SMEs will be selected to receive partially subsidised back office accounting support and financial training for a period of 18 months. The aim is to help them become sustainable businesses, and also to drive economic growth.
In addition, thanks to this project 50 unemployed, accounting graduates from disadvantaged backgrounds are currently receiving six months' work readiness training through Guarantee Trust Corporate Support Services (PTY) Ltd. The training is aimed at helping graduates develop the soft skills, professionalism and technical know-how needed in an office environment. On completion of this training, the top 13 graduates will be selected to join the Enterprisation-J.P. Morgan project team for the duration of the project to service the accounting needs of the selected SMEs. The remaining graduates will be assisted with placement in other projects.

The key objective of the J.P. Morgan Enterprisation flagship project is to help SMEs reach the level of sustainability that allows them to drive economic growth and create employment. For this reason, SMEs accepted into this project will be measured against four key goals: compliance, revenue growth, profitability and employability.
To apply to be a part of the project, SMEs must:
be owned by a SA citizen
be successfully operating for a minimum of three years
have an annual turnover of between R500 000 and R10 million
be at least 51% black owned
operate only in South Africa
have valid tax clearance
have a valid BEE certificate/affidavit
be registered with the Companies and Intellectual Property Commission (CIPC) and have valid CIPC documentation
have an active business bank account
employ a minimum of two people (excluding directors and owners)
not have an accountant at present
not currently be a client of SAICA's enterprise development entities
be willing to attend SAICA-hosted training and workshops.
SMEs that operate in the top-performing industries in South Africa – namely ICT, tourism, infrastructure, agriculture, transport & logistics, manufacturing, media and entertainment, and education – will be given preference for entry onto the project's shortlist.
How to apply?
Business owners who would like their SMEs to be considered for the J.P. Morgan Enterprisation flagship project should note that the application consists of two steps: an initial online application and, should your SME be shortlisted, a 15-minute pitch presentation to a panel of judges who will select the 100 SMEs that will take part in the project.
To submit your application, visit www.saica.co.za, click on the Enterprisation J.P. Morgan project banner, and fill in the online application form.
Please note that online applications close at midnight on 15 January 2017. SMEs shortlisted for the project will be contacted by 18 January 2017 to set up a presentation to the panel during February.
For More Information:
Visit the Official Webpage of the J.P. Morgan SAICA Entrepreneur Support Programme 2017