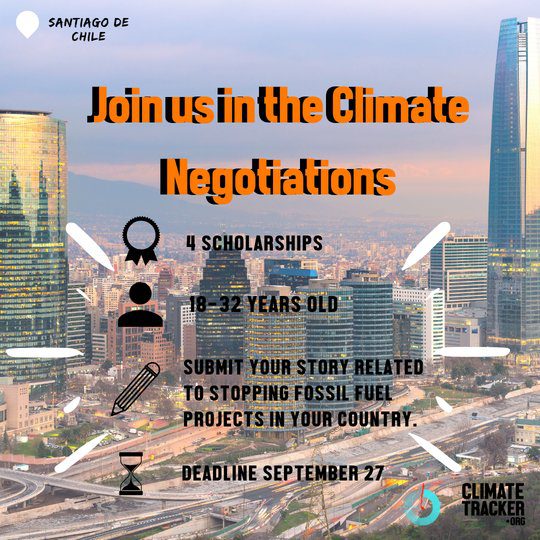 Application Deadline:27th September, 2019.
Participate in our competition to be considered for one of four fully-funded fellowships to the United Nations climate change negotiations in Santiago de Chile.
We are looking for young journalists from around the world who want to make a big impact in their countries by publishing about a fossil fuel project that needs to be stopped in their country.
The global community agreed in Paris to limit climate change in a way that protects people and the planet. Four years later, we still see countries giving large sums of money to fossil fuels, or planning to expand new coal and gas projects.

But we don't have time to wait, the latest science tells us that we need rapid and far-reaching changes to a more sustainable future if we want to avoid the worst effects of climate change.
It is time to pressure our governments to stop developing new fossil fuel projects, and stop funding them, transitioning to a renewable energy and more fair economy.
The best 4 journalists will get a chance to attend and cover the COP25 in Chile, from 29th November to 14th December. There you will receive training on climate policy and journalism by Climate Tracker, get to attend the international climate negotiations and meet amazing people from everywhere in the world! You cannot miss this chance!
How to Apply:
Write an article about a fossil fuel project that needs to be stopped in your country.
Publish your article. You have to find a news site, blog, newspaper, magazine, etc. willing to publish your article. It can be at a national, regional, local or international level. Aim for the one with best reach across the region.
Submit your article link to our platform.
For More Information:
Visit the Official Webpage of the Climate Tracker at the COP25 Climate Negotiations