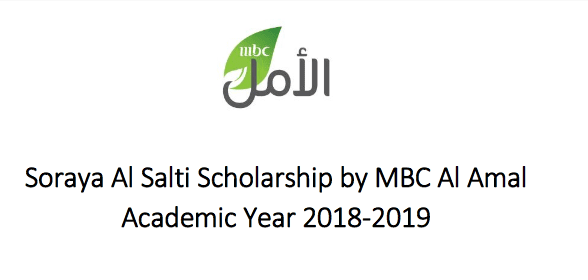 Application Deadline: August 31st 2017
MBC Al Amal is proud to announce the commencement of the first round of the Soraya Al Salti Scholarship. This scholarship, managed by Newton Education Services, offers a number of fully funded and partial scholarships for Arab women looking to pursue a masters degree in various fields, for up to two years.
Scholarship Requirements
Upon graduation, scholarship recipients are required to work within the MENA region and/or projects related to the MENA region for a minimum of one year.
Scholarship Coverage

Full or partial tuition and/or living expenses coverage for a maximum of two years
Eligibility Criteria
Female national of the MENA region
Candidates must hold a Bachelor's degree or equivalent from an accredited academic institution
Demonstrate excellent professional and academic record
Demonstrate excellent interpersonal skills (extracurricular activities, community development or entrepreneurial initiative)
A minimum of two years of work experience and/or significant community service-related activities.
English language proficiency is required. Valid TOEFL or IELTS exam scores with a minimum of 600 (paper-based), 250 (computer-based), 100 (internet-based, minimum 22 on each section) on the TOEFL, or 7 for the IELTS.
Depending on the field of study, candidates may be required to sit for the GRE or GMAT exam
Required Documents
Completed and signed application form (including universities/program/countries of choice)
A personal statement
Updated resume
Undergraduate and/or graduate transcripts (in English)
TOEFL/IELTS score
Two letters of recommendation
GRE/GMAT score (if applicable)
One personal photo
HR letter from current employer or salary slip/ 6 month bank statement in case of unemployment
Application Procedure:
Thursday, August 31, 2017 at 5.00 p.m. (Cairo Local Time)
Download the application form and fill in all the required fields then mail your hard copy application and required documents to Newton Education Services.
Address: Building 4, Floor 4, Regus Offices, Arkan Plaza, El Sheikh Zayed, Plot 31, in front of Zayed 2000 Compound, Giza, 11728, Egypt.
Phone:  +2-0106-1455551
Email: [email protected]
For More Information:
Visit the Official Webpage of the MBC Al Amal Soraya Al Salti Masters Scholarship 2018