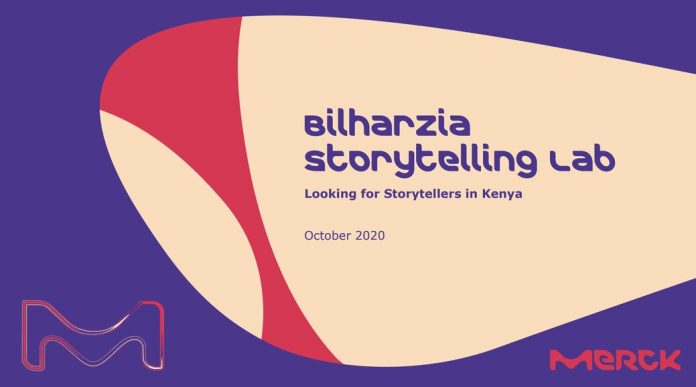 Application Deadline: 24th of November 2020
The Bilharzia Storytelling Lab is looking for 20 community leaders and innovative storytellers in Kenya. The Lab is a hackathon focused on developing innovative communication tools that can support Bilharzia elimination efforts (also known as Schistosomiasis) in Kenya.
Benefits

– All teams will take part in the competition of 10.000 USD for the implementation of the project with Merck's support.
Throughout the program you will have access to masterclasses and top experts from NGOs, foundations, corporates, universities and the public sector. You will learn about behavioral change, powerful communications tools and key drivers in the health space while becoming part of a movement of passionate storytellers that works collaboratively to eliminate Bilharzia.

The Storytelling Lab includes two pre-lab workshops on January 9th and 16th and the Lab itself from January 28th-30th. The Bilharzia Storytelling Lab is hosted and sponsored by Merck and is free of charge. Merck actively supports the efforts of achieving the targets of WHO's NTD Roadmap 2030, which ultimately ensures the global elimination of Bilharzia. Merck has provided more than 1 billion tablets to date but wants to support more initiatives for prevention and treatment of the disease.

Bilharzia (also known as Schistosomiasis) is an acute and chronic disease caused by parasitic worms. People are infected during routine agricultural, domestic, occupational, and recreational activities, which expose them to infested water. Currently, six million Kenyans are infected, and another 15 million are at risk of contracting Bilharzia.
Requirements
Between 18 and 40 years old
Currently based in Kenya or ability to be in Kenya during the lab
High reading and speaking proficiency in English
Experience working with either storytelling, journalism, or communications
Availability for the full program from pre-lab phase on January 9th and 16th to the Lab itself January 28th- 30th
Preferred Qualifications
Desire to initiate and implement ideas and solutions
Knowledge of or strong interest in health and/or development
Specific expertise e.g. tech skills or experience in social impact, the political landscape, community building, etc.
Benefits
Make a difference and learn how to spark behavioral change
Create impactful stories through an immersive innovation program and learn how to change health behaviors for Bilharzia elimination from
experts in storytelling, media production, and health promotion
Get the chance to win 10,000 USD of implementation support
The winning storytelling project will be supported with seed funding of 10,000 USD to implement a pilot and will have a chance to work with
Merck on upscaling the project to other communities, the national level or other countries
Get acquainted with a new toolkit to solve complex issues
Acquire skills in innovation and design thinking that can be applied in professional endeavors beyond the Storytelling Lab
Become part of a network
Join a network of experts, mentors, facilitators, and be introduced to organizations
Discover new opportunities
Create connections and discover new opportunities for collaboration with experts, mentors, and organizations
A proven methodology to create powerful stories

The Storytelling Lab combines storytelling with human-centered design thinking. Through this methodology, participants dig deep into root causes of challenges related to global development and are provided with ways of structuring both stories and impact campaigns. Human-centered design thinking puts the human aspect at the center of the proposed solution with the aim of making sure products are relevant for the people you want to serve.
By merging processes used in social innovation with traditional journalism we allow storytellers to think in a more structured way
about their processes and more thoroughly about the potential impact of their stories.

PROBLEM FRAMING
Defining the problem and the group of people that are affected by the problem

IDEATION
Producing creative ideas that address the problem framing

IMPACT PLANNING
Planning for the desired impact and fitting it with production plans

PROTOTYPING
Creating prototypes of the idea, pitching to organizations, planning for a pilot and budget
PITCHING
Creating a compelling pitch to partners and funders
PILOTING & IMPLEMENTING
Implementing communication projects and seeking opportunities for scaling
How to apply

In order to apply you need to:
• Link to an online CV or portfolio (LinkedIn or website)
• Gather at least two examples of work you have done as a storyteller– and make sure you have a link to them (If you don't have any previous work samples, you can upload an audition video or other creative project showcasing your motivation or storytelling approach)
• Ensure you are available to participate in all parts of the program in January 2021
• The application deadline is the 24th of November 2020
If you have any questions regarding the application process reach out to Luise Jochimsen ([email protected])
If you want to apply to the Storytelling Lab you can do it here: bit.ly/Bilharzia
Feel free to reach out to [email protected] or [email protected]
For More Information:
Visit the Official Webpage of the Merck Bilharzia Storytelling Lab