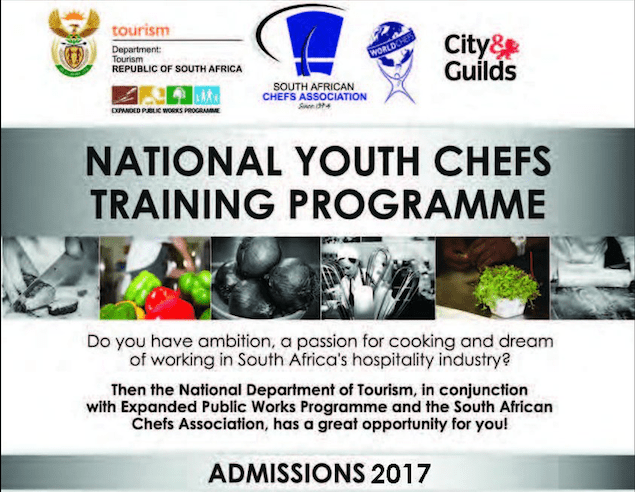 Application Deadline: August 25th 2017
The National Youth Chefs Training Programme keeps on soaring; changing the lives of young unemployed people and providing our hospitality industry with a skilled workforce.
NYCTP was created in a unique partnership between the National Department of Tourism (NDT) and the South African Chefs Association (SACA) to address the urgent need for cooks and chefs in South Africa's growing hospitality industry. This programme forms part of the National Government's Expanded Public Works Programme (EPWP) as an initiative to fund skills development projects to create employment.
In line with this, SACA was tasked to engage and educate young, unemployed people, who have the interest, drive and aptitude to work as chefs in the hospitality.

The pilot programme, which began in April 2011, enlisted 800 students in a platform that is designed to provide learners with both theoretical and practical training. The Minister of Tourism Marthinus van Schalkwyk and the NDT have been inspired and excited about this programme that makes a positive impact in the fight against unemployment, as well as answers a critical need in the development of our hospitality and tourism industry.
The National Youth Chefs Training Programme helps young, unemployed people gain the skill necessary to succeed in the hospitality industry.
Requirements:
Between 18 and 35 years of age
A metric qualification
Metric-Level English
South African Citizenship
A certified ID copy and metric certificate
You have been unemployed for a minimum of 12 months.
If you meet this criteria please email your application to [email protected] and [email protected]
or fax to 086 756 6864/086 756 6234 or post to
PO Box 291305, Melville, 2109
Please note that if you haven't received a response by two weeks after the closing date, your application has been unsuccessful.
For More Information:
Visit the Official Webpage of the National Youth Chefs Training Programme 2017