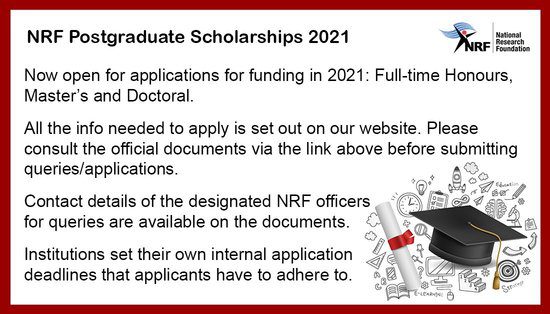 Application Deadline: Varying by Institutions
The National Research Foundation (NRF) has developed a new Postgraduate Student Funding Policy that will use postgraduate student funding as a lever to address the challenges of inequity of access, success and throughput. The purpose is to retain high academic achievers in the system to pursue postgraduate studies up to the doctoral level, as part of a national drive to grow the next generation of researchers and academics to sustain South Africa's knowledge enterprise.
Eligibility
Postgraduate student funding will be made for full-time honours, masters, and doctoral degrees only. It must be noted that the NRF will not fund the following:
a. Undergraduate qualifications, regardless of National Qualifications Framework (NQF) exit level;
b. Postgraduate certificates or diplomas, regardless of NQF exit level and
c. Professional masters and doctoral degrees, regardless of NQF exit level.

Academic Requirements
A student must obtain:
A minimum average of 65% for major subjects in the final undergraduate year of study for honours funding;
A minimum average of 65% at the honours level or final year of a four year degree for masters funding; and
A minimum of 65% at the masters level for doctoral funding.
Requirements
The NRF will identify students that have previously been assessed as financially needy by National Students Financial Aid Scheme (NSFAS) or the Ikusasa Students Financial Aid Programme (ISFAP).
In addition, students who have not undergone a financial need assessment will be subjected to a Household Financial Means Assessment by the NRF in partnership with ISFAP.
Only students that complete the consent form and provide the requested information will be subjected to a Household Financial Means Assessment by the NRF.
The NRF offers funding support to students studying/intending to study on a full-time basis and who will not be in a full-time salaried, contractual or permanent employment that exceeds 12 hours per week while pursuing postgraduate studies. The financial means test will be based on the combined nett family income which is defined as a measure of the combined income of parents/spouses and/or legal guardians who earn income both from the formal and informal sector (e.g., salaries and wages, grants, pension and other sources of income including business and/or rental income).
This will apply to all applicants for NRF funding irrespective of the age of the student
Benefits
Full Cost of Study will cover tuition, accommodation, living allowance, meal allowance and a onceoff allowance for study resource material such as an electronic device
For More Information:
Visit the Official Webpage of the NRF's Postgraduate Scholarships 2021