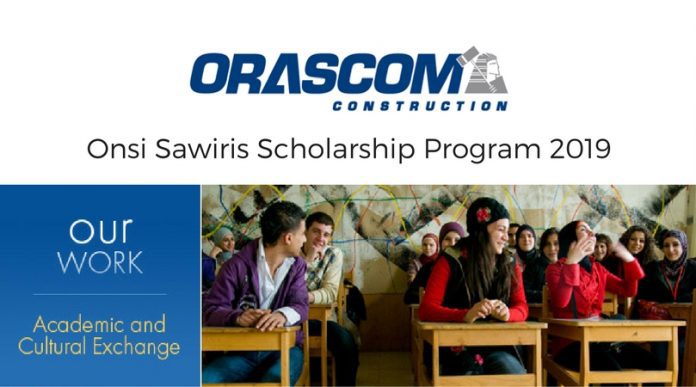 Application Deadline: July 31st 2019
Orascom Construction launched the Onsi Sawiris Program in the year 2000 to invest company resources in educational programs to improve the communities in which it works. Through the Onsi Sawiris Scholarship program, OC provides full tuition scholarships for Egyptian undergraduate students seeking to pursue their Bachelor's degree in fields that will enhance the economic prosperity of Egypt at prestigious universities in the United States.
The Onsi Sawiris Scholarships will be awarded based on character and merit as demonstrated through academic excellence, extracurricular activities, and entrepreneurial initiative.
Benefits

The scholarships include full tuition, a living allowance, travel and health insurance.Scholarship recipients will also be given the option of an internship position within the company.
Eligibility Requirements
GPA 3.5 / 90% in Thanaweyya Amma certification (Secondary year) or equivalent certificates TOEFL iBT: 100 or above [or equivalent] Minimum SAT I Score: 1450 SAT II in 3 subjects: 600 or above Extracurricular Activities Fields of Study:
Engineering, Economics, Political Science, Finance and Management. Candidates should: Meet the above criteria
Be planning to start their studies in the U.S.A in the year 2020
Be Egyptian nationals, who are residents of Egypt (preference will not be
given to dual nationality applicants)
Have not lived more than 3 years abroad Be committed to coming back to Egypt for two years directly after the
successful completion of their bachelor's degree Important notes: Preference will be given to candidates who have not lived, worked, or studied abroad for a significant period of time. The Onsi Sawiris Scholarship Program is only granted to the list of endorsed
universities provided in the "Approved Universities"

section of the application. Selection as a nominee for the Onsi Sawiris Scholarship Program does not guarantee university acceptance.
Applicants will be supported in applying for these universities. If nominated for the scholarship; the Onsi Sawiris Scholarship Program award will be made once university acceptance is obtained. Please submit: Application form
Resume
Copy of test scores (SAT I / or SAT II) & TOEFL iBT Copy of transcripts
Copy of graduation certificate or Thanaweyya Amma certificate (if available) Two recommendation letters For Inquiries, please contact us at: E-Mail:

[email protected]



For More Information:
Visit the Official Webpage of the Onsi Sawiris Scholarship Program 2019/2020