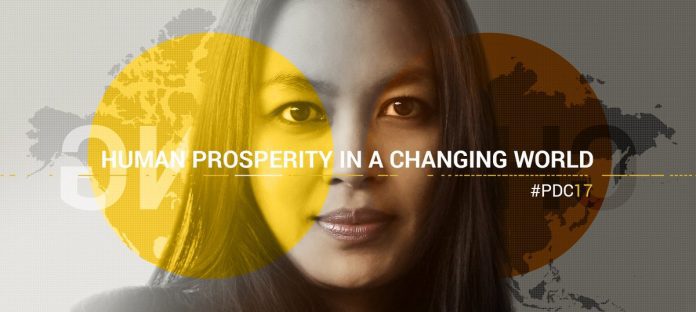 Application Deadline: July 15th 2017
Drucker Challenge is an essay contest for students and professionals between 18 and 35 organized by the Peter Drucker Society Europe. Keeping the human-oriented management philosophy of Peter Drucker alive in the minds of the young generation.
Prosperity is not just a financial notion — inclusive prosperity encompasses the opportunity for lives in dignity, with purpose and roles to contribute to common endeavors in the communities one is part of. It is definitely more than material well-being. A holistic view of prosperity includes all — the material and economic aspects as well the social, emotional, intellectual and spiritual side.
The biggest natural resource on the planet is human potential — human energy, engagement and creativity. Only a fraction of this potential is brought to bear today. However, if better leveraged, this latent potential would be the key driver for conomic and human growth.
What holds people back in today's organizations and institutions to realize their potential? What are the obstacles that you see in your environment?
What is the role of management to free up human potential? Give examples of management actions that have made a difference in your life.
Can digital technology (in particular automation and Al) spavvn prosperity as opposed to eliminate jobs? Give concrete examples
What is your perspective on hovv technology can enable people to co-create solutions that are good for their communities, the economy and the vvorld?
https://www.youtube.com/watch?v=BnBIcoqzRKc
Essay Format
A personal narrative essay that may be underpinned by research
Words
1500 to 3000 (excluding footnotes and any graphics) as PDF or word document
Font Size:
General Requirements
You must be between 18-35 years old (inclusive of both ages);
You must have been selected no more than once (or not at all) among the top 10 since 2010.
Essay Category Requirements
Student category
You are a part-time or full-time student (bachelor, master, MBA, or PhD);
Or you are seeking your first opportunity after the completion of your last degree.
Professional category
You are a manager of people, projects, budgets, and/or processes;
Or you are a licensed professional;
Or you are an entrepreneur or business owner;
Or you are a social volunteer or community leader.
Participation
Open to students and young professionals from all around the world
Prize:
A cash prize of € 1,000 (to be handed over at the Awards Ceremony)
Free participation in the 9th Global Peter Drucker Forum to be held in Vienna on November 16 – 17, 2017 (including conference bag and brochure; buffet lunches and coffee breaks at the conference venue)
Funding of travel expenses (airfare or train plus 3 nights lodging at a hotel of Organizer's choice)
Invitation to pre-conference events (Nov. 15): Drucker Challenge Get-Together (with partner) and Speakers reception at the City Hall (with partner)
Invitation to the Gala event on Nov. 16 with awards ceremony (with partner) and a guided tour at Schönbrunn Palace
Opportunity to contribute in a session and /or an interview by important media (selection by session chair/media representative)
Certificate with ranking
Ranking list and publication of essay on www.druckerchallenge.org
Opportunity to post a blog on www.druckerforum.org with your learnings from the Drucker Forum (incl. review and edit by experienced management writers)
One-year-all-access subscription to Harvard Business Review
For More Information:
Visit the Official Webpage of the Peter Drucker Challenge Essay Contest 2017