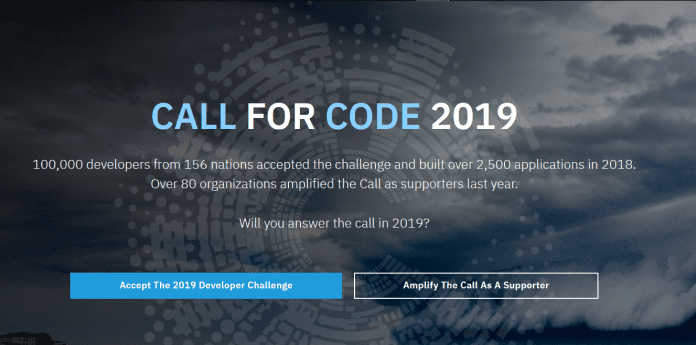 Application Deadline: July 29, 2019 at 11:59 PM PT.
The Call for Code Global Initiative rallies developers to create practical, effective, and high-quality applications based on cloud, data, and artificial intelligence that can have an immediate and lasting impact on humanitarian issues.
Building on the success of the 2018 competition, the IBM 2019 Call for Code Global Challenge again asks developers to create solutions that significantly improve preparedness for natural disasters and accelerate relief when they hit.
This year's challenge introduces an emphasis on individual health and community wellbeing. This includes solutions that can reduce the risk of disease, improve access to data and the availability of resources, and address the mental health needs of those impacted before, during, and after disasters.

This multi-year global initiative rallies developers to create practical, effective, and high-quality applications based on cloud, data, and artificial intelligence that can have an immediate and lasting impact on humanitarian issues. Call for Code brings startup, academic, and enterprise developers together and inspires them to solve the most pressing societal issues of our time.
Requirements:
All developers, designers, and entrepreneurs who are over the age of 18 or the age of majority in their jurisdiction, whichever is greater. Employees of IBM and DCC not eligible to participate. All participants must accept the terms of the Participant Agreement upon submission.
An internal Call for Code initiative and prize structure for IBM employees is being deployed separately from the global challenge.
Team Formation:

Teams are created at the discretion of individual participants with a team being no more than five individuals. Options to find other team members are available through the IBM Coder community.

Hackathons
During the period from February to July there are satellite public hackathons hosted by AngelHack, IBM, and other groups in cities throughout the world. There are also events hosted at enterprises, startups, and universities.

Each of these events has a narrower scope of disaster preparedness tailored to the particular audience. Those events may have their own judging and prizes and are considered 'feeder' events into the main challenge, allowing developers to kick-start their project with dedicated help in the short term, for solutions to be continually built in the long term.
There are six technology areas that provide suggested starting points for participants to build out their submissions using IBM Cloud services. Developers do not have to limit the scope of their submission to these technology areas. The IBM Coder community provides its own leaderboard that recognizes developers who work their way through those technology areas in self contained "challenges" on the Influitive platform.
Prizes
One team will win the second annual Call for Code Global Prize, supported by the United Nations Human Rights Office and the American Red Cross.
The winner and runners up will also earn several other awards that foster adoption of their application as an open source project through the The Linux Foundation to scale its impact and accelerate its deployment in areas of greatest need.
In addition, the grand prize winner will have an opportunity to meet mentors and investors to discuss potential funding for the idea and they will receive deployment consultation through the IBM Corporate Service Corps.
Grand Prize
$200,000 USD cash prize
Invitation to the Call for Code Global Prize Celebration
Long-term open source project support from The Linux Foundation
Fresh Code Rules
Applications must be new and built for the 2019 competition between February 12th and July 29th 2019, but they may use code that was open sourced and available to all other participants as of February 12, 2019. Other than that, almost anything goes, and you can use any coding languages or open-source libraries.
Submission Procedure:
The competition platform will be opened at the end of March, along with detailed submission rules.

Your team leader will require the following information to fill out the form:
Team name.
Teammate names and emails. Remember, you can only be part of one team of up to 5 members, and your team can only submit one application. Each person must have registered and therefore accepted the Participant Agreement.
Submission title/summary. Describe your team's solution in 7 words or less.
Describe your solution in more detail. Give us a more detailed description of what you're building, what problem you are solving, and why it matters in less than 500 words.
Solution roadmap. How mature is your submission and where do you intend to take it from here?
Link to GitHub or other source repository (You can provide an additional description and diagrams here. Hint: Review the judging criteria and rules: 2019 Call for Code Global Challenge.
Three-minute demo video. Record a demo of your project, upload it to YouTube or Vimeo and share the URL. If there is a password please share it here.
What IBM Cloud services did you use?
Timeline:
The 2019 Challenge is issued – February 12, 2019

Participants can join the 2019 Call for Code Challenge Community hosted by IBM. Use your account to get familiar with IBM technology – see below for more information – and engage developer advocates in the IBM Coder community to answer any questions you may have.

Submissions accepted – March 25
The challenge platform officially opens for submissions. In order to submit, you must accept the 2019 Participation Agreement. You may edit and resubmit your solution up until the July 29 deadline.

Iterate and improve your code at local events – February through July
Satellite events around the world echo and amplify the Call for Code Global Challenge. These events may have self-contained competitions, possibly focused on one of the 6 technology areas below, and developers who participate in those events are encouraged to submit applications for the Call for Code Global Challenge.

Final submission deadline – July 29
All submissions must be submitted by July 29, 2019 at 11:59 PM PT.

Initial rounds of judging – August
Semi-finalists will be judged by leaders from IBM, DCC, the United Nations Human Rights Office, the American Red Cross, and other Affiliates.

The final round of judging ends – September
Finalists will be selected by the jury of eminent judges. This round will rank the 5 overall winning teams of the competition. Winners are announced – October
For More Information:

Visit the Official Webpage of the IBM 2019 Call for Code Global Challenge