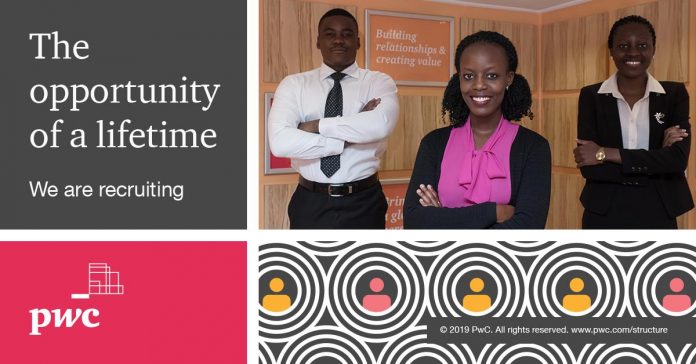 Application Deadline: April 28th 2019
By joining PwC, it's likely you'll join us with a number of other people. So, not only do you build very strong networks and make lasting friendships, but you're one part of a wider group going through the same experiences. Teamwork is very important in every piece of work we do, because we draw on everyone's knowledge and skills to ensure that all the work we deliver is of the highest quality.

This means you'll work with some truly inspiring people, learn from them and, in turn, share your own insights – all contributing to the growth and success of your career and the organisation as a whole.
Requirements:
Graduates from different disciplines with a minimum of 2nd Upper Class honours and a possibility of pursuing a professional certification in different areas e.g. accounting, information technology, and corporate finance and so on.

As you would expect, a strong academic background is important, however, in our experience it is also well-rounded individuals who succeed in PwC. That's why we welcome graduates from all degree disciplines and also why we want you to show us what you have achieved outside of your academic studies.
The learning experience
Successful candidates will join the PwC professional training program underpinned by specific learning courses run by the PwC Business School. PwC gives you the best possible training that can be offered and sets you up for your career in whichever direction you choose to take. Training offered broadens and deepens your knowledge, and stresses the relative importance of learning from doing, learning from others and formal training to support relevant professional fields including ACCA. 
The opportunity of a life time
Your career is just that, yours. You choose it. You live it. You make it happen. To get the best from it, you need the best opportunities. That's why opportunities are at the heart of PwC careers. Opportunities to grow as an individual, to work flexibly, to build lasting relationships and make an impact in a place where people, quality and value mean everything.
Smart, courageous people who are able to forge strong relationships make us the best at what we do: measuring, protecting and enhancing what matters most to our clients. And although the work we do will vary, the way we work will not. We make sure all our people are prepared for the challenges of the future through our global leadership framework, The PwC Professional.

Applications
PwC only accept applications through our website to ensure that every candidate is treated fairly and consistently.
Ensure that all personal details are accurate, specifically your email address and telephone contacts.
If you need more guidance on the application process, please send your enquiry to [email protected] (DO NOT APPLY BY EMAIL)
Pre-employment checks
Getting ready to join PwC e.g. reference checks and pre- on-boarding sessions with our staff will start Wednesday 2 September 2019.

For More Information:
Visit the Official Webpage of the PwC Graduate Recruitment Programme 2019