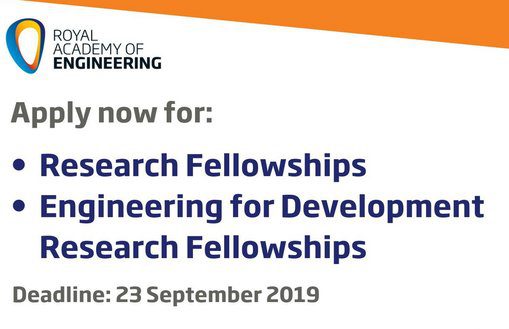 Application Deadline: 23 September 2019.
The Royal Academy of Engineering offers Research Fellowships each year to outstanding early-career researchers to support them to become future research leaders in engineering. The scheme's objectives are to:
support the best early-career researchers in establishing their independence and international reputation
provide long-term support enabling the pursuit of an ambitious programme of engineering research and impact
develop ambassadors for the Academy and advocates for STEM (science, technology, engineering and mathematics) disciplines.
The Academy welcomes applications from early-career researchers worldwide who have been awarded their PhD in the last four years. The scheme provides funding for five years. Each application is capped at a maximum contribution from the Academy of £500,000 over the five-year period, at 80% of full economic costs. In addition, Research Fellowships must be held at a UK higher education institution/university.
In addition to the direct financial support, the scheme benefits include:

opportunity to establish a research track record in a specialised area
a stronger position to apply for additional funding and develop own research team
mentoring support from an Academy Fellow to offer advice on research and career development
reduction of teaching and administrative duties to dedicate time to research
training opportunities
networking with other Research Fellows and Academy Fellows.
Engineering for Development Research Fellowships
Engineering for Development Research Fellowships (EDRF) support research that meets the UK government's Official Development Assistance (ODA) commitment. The scheme offers the same benefits as the Research Fellowships and the application and review process is the same. If you would like your application to be considered for an EDRF, you must complete relevant sections in the application form to explain how the research project meets the ODA guidelines.
Unlike in previous rounds, applications for EDRFs 2019/20 should not, at the application stage, provide a cost table of additional funding above the £500,000 standard limit to support international collaboration. For successful 2019/20 EDRF applications, the Academy will request a short proposal for additional funding, subject to confirmation of future funding allocations within the Global Challenges Research Fund (GCRF). However, since the possibility of additional funding is not expected to be confirmed until mid-2020, the applicant should be clear what work programme will be deliverable within the £500,000 limit and any other resources that the applicant is confident of obtaining.
For More Information
Visit the Official Webpage of the Royal Academy of Engineering 2019 Research Fellowships