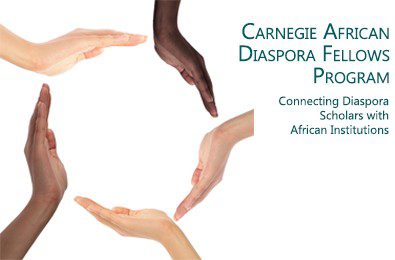 Press Release
Seventeen Carnegie African Diaspora Fellows Selected
New Fellows are Among 110 Chosen to Collaborate with African Higher Education Institutions
Seventeen Carnegie African Diaspora Fellows will travel to Africa beginning this month to conduct joint projects with colleagues at host universities in Ghana, Kenya, Nigeria and South Africa. Professors from North America who were selected as Fellows will work on a wide range of projects that were submitted by the hosts to foster collaboration and build capacity at the African campuses. A few of the projects supported by this third round of grants include developing an MBA program, staging a musical, and conducting Africa-sensitive research in cognitive psychology.
The Carnegie African Diaspora Fellowship Program(CADFP) has now selected and approved a total of 110 Fellows since its inception; ten more than anticipated when the program was launched in February 2014. In addition to the 17 Fellows announced this month, the program had previously announced awards to 33 Fellows in June 2014, and 60 Fellows in November 2014.
All of the Fellows and Host Institutions are listed on the program website, along with highlights of projects and comments from the first round of Fellows and Hosts.
When the African Union identified the Diaspora as Africa's 6th region, it highlighted the fundamental role the Diaspora will play in strengthening the continent across political, economic, and social spheres, forcing the conversation of the Diaspora's contributions to expand far beyond remittances. There has been a significant shift in the description of skilled labor migration away from brain drain to brain gain to brain circulation.

The Carnegie African Diaspora Fellowship Program Advisory Council, comprised of academic leaders from Africa and prominent African Diaspora academics, has remarked on the quick growth, high quality and impact of the program, which allows African universities to take the lead in hosting African diaspora scholars at their institutions.
The Carnegie African Diaspora Fellows Program is managed by the Institute of International Education (IIE) in collaboration with Quinnipiac University, which chairs the Advisory Council, and is funded by Carnegie Corporation of New York.
"The Carnegie African Diaspora Fellows Program exemplifies Carnegie Corporation's enduring commitment to higher education in Africa. It brings together Dr. Paul Zeleza's expertise and vision with IIE's long history of managing global scholarships and our ongoing work to develop talent and help build capacity to address the challenges and harness the opportunities emerging on the African continent," said IIE's President and CEO, Allan E. Goodman.
Source: Institute of International Education (IIE)