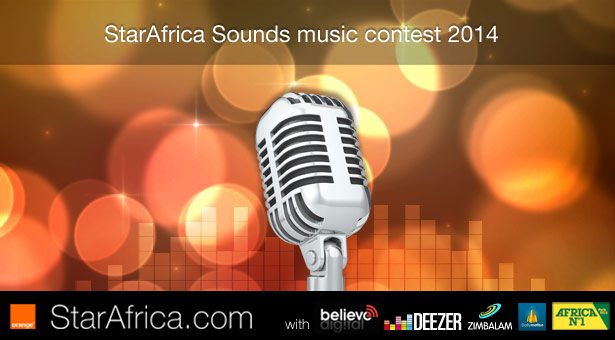 Submission Deadline: May 5 2014
In order to promote new African music talents, StarAfrica.com, the Orange entertainment portal in Africa, launches the third edition of the StarAfrica Sounds music contest in partnership with Youssoupha, in partnership with Deezer, Believe, Dailymotion, Zimbalam and Africa n°1.
From April 2014, 8th to May 2014, 5th: the candidates (singers, groups, artists, musicians…) will have the opportunity to register on StarAfrica.com, proposing an original song, representative of their musical universe.
From May 2014, 7th to June 2014, 2nd, the public will be invited to vote on StarAfrica.com and support their favorite candidates.
A jury composed of music professionals will designate the jury's prize from all the candidates. His or her identity will be revealed on StarAfrica.com on June 2014, 6th.
Prizes:
The music title of the 10 winners of the competition will be part of the StarAfrica Sounds 2014 compilation.
1st prize of the public: an highlighting on StarAfrica.com and Deezer Africa and North Africa, an interview on Africa N°1, a Deezer 4 Artists certified account, a 6 months free access to Deezer Premium + and 3 album accounts on zimbalam.com
2nd to 9th prize of the public: a Deezer 4 Artists certified account, a 6 months free access to Deezer Premium + and 3 album accounts on zimbalam.com
The jury's prize: an highlighting on StarAfrica.com and Deezer Africa and North Africa, an interview on Africa N°1, a Deezer 4 Artists certified account, a 6 months free access to Deezer Premium + and 3 album accounts on zimbalam.com
For More Information:
Visit the Official Webpage of the  StarAfrica Sounds Music Contest