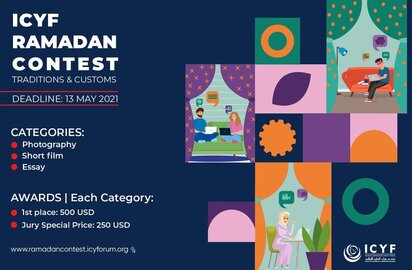 Application Deadline: May 13, 2021
Islamic Cooperation Youth Forum (ICYF), an international organization affiliated with the Organization of Islamic Cooperation (OIC), calls for submissions for the ICYF RAMADAN CONTEST.
The holy month of Ramadan is upon us once again and although this year's holy month will be a slightly different due to the ongoing pandemic, we hope to fulfil our duty to the creator of the heavens and the earth, Allah (SWT) by fasting and doing more good in this holy month. Although the pandemic has made it impossible to enjoy most of our traditional Islamic Ramadan customs like breaking our fast with our friends and families and performing Taraweeh together with our communities at our local masajid, we would like to remind you that these difficult times shall come to pass and we will continue to work hand in glove with the Muslim youth.
Our 2021 ICYF Ramadan Contest is giving the youth yet another good thing to look forward to as we are providing a platform for the youth to show their local customs and traditions in the blessed month of Ramadan. We are calling upon the youth to express their Ramadan customs and traditions in text, video, and photo formats in an effort to bring us together at a time when we are disconnected in the physical world. Our motive is to promote our cultures and customs through multimedia during Ramadan within the frameworks of the beautiful religion of Islam. We want you to show us how you spend your time in Ramadan in your community, what you do in preparation for fasting each day and or what you do differently in this holy month within your locality.

CONDITIONS OF PARTICIPATIONS & RULES
RAMADAN CONTEST IS OPEN TO ALL YOUTH, AGED BETWEEN 18-35, OF OIC MEMBER STATES OR CONSIDERED RESIDENT OF MUSLIM MINORITY COUNTRIES.
PARTICIPATION IS OPEN TO THE PUBLIC AND FREE OF CHARGE.
SUBMITTED WORKS TO THE CONTEST ARE NOT ALLOWED TO BE RETRIEVED.
ICYF SECRETARIAT SHALL MAKE FINAL DECISIONS WITH REGARDS TO ALL CASES, INCLUDING THOSE NOT SET ACCORDING TO THE CURRENT FORMAT, OR INSIGNIFICANCES RESULTING FROM ITS CONTENT AS WELL AS MAKING CHANGES IN SOME OF THEM.
COMPLETION OF THE PARTICIPATION APPLICATION FORM MEANS THE PARTICIPANTS' ACCEPTANCE OF ALL OF THE CONTEST REGULATIONS.
TECHNICAL REQUIREMENTS FOR SUBMISSIONS
SHORT FILM REQUIREMENTS:
Duration: Maximum 3 minutes.
Acceptable Video Formats: MP4, H264 formats.
Video Resolution: 1920×1080 in horizontal
Codecs: Do not use special codecs in order to provide as much portability across platforms as possible.
Audio is optional, but lack of audio should have minimal impact on the comprehension of the video.
Structure: The video must include at the beginning a video cover with the title, authors and affiliation and the credits at the end.
The video should not have any commercial pitch and the authors of each video must have clear copyright of the audio and visual content.
PHOTO REQUIREMENTS:
Photos must be submitted in high-resolution JPEG and should not exceed 50MB per entry.
Photos must be original (no edits, no photoshopped entries, no logo added, etc.).
Ensure that the photo is in compliance with all the legal and copyright requirements. The photo must be an original creation – no copyrighted images may be used.
ESSAY REQUIREMENTS:
The essay must be written in English language only.
The essay should be between (300-500 words).
Each applicant may only submit one essay.
The essays should not have been published earlier, neither electronically nor in print.
Essays must be the individuals' own original pieces of work.
Submissions must also include a brief summary.
Essays must be typed (1.5 spaced) in 12-point Times New Roman and submitted in word format.
FORMAT
A jury who will select winners will judge the entries submitted by the applicants. The jury's decisions are final and binding in all respects and not subject to appeal. Submitted entries will be evaluated according to the following criteria.
Message
Originality and creativity of expression
Quality of execution
Timeline
PARTICIPANTS MAY ENTER A SUBMISSION BETWEEN April 13 and May 13, 2021
ANY SUBMISSION ENTERED FOLLOWING THE DEADLINE WILL NOT BE CONSIDERED FOR AWARDS.
DEADLINE: 23:59 (GMT+3), May 13, 2021
ANNOUNCEMENT OF WINNERS: May 20, 2021
For More Information:
Visit the Official Webpage of the ICYF Ramadan Contest 2021