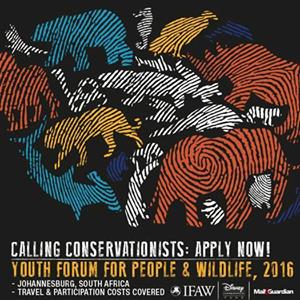 Application Deadline: 11:59PM/23:59 GMT 4 December 2015
Are you a passionate conservationist aged 18-25 looking to ensure a future for animals on our planet?
Are you committed to working with communities to find solutions enabling people to live and prosper alongside nature?
Are you tireless in your efforts to educate your friends, colleagues and the public to take action and protect wildlife?
Do you want to meet and share ideas with like-minded young conservation leaders from around the planet, while seeing how real-world global policies are actually made?
If what drives you is conservation and protecting animals, tell us about it and you could soon be on a plane to Johannesburg, South Africa to join this unique youth event. You might be a scientist, a grassroots campaigner, an artist, a game ranger, a budding politician, run a rehabilitation center, be a film-maker or running a community education project. Tell us what makes you tick.
The Youth Forum for People and Wildlife takes place in the days leading up to the 17th gathering of the world's biggest conservation policy making forum, the Convention on International Trade in Endangered Species of Wild Fauna and Flora (CITES) .
In September 2016 IFAW and the Disney Foundation will gather 20 young conservationists from diverse backgrounds, aged between 18 and 25, at an empowering event to debate issues, explore solutions and build the skills the world needs if we are to save wildlife and build ecologically-sustainable communities.
Activities during the forum include a team field excursion; skills building workshops; debates and discussions with top conservationists from around the world; as well as social events designed to give you skills that you can apply in your community and in your career as well as a taste for life in vibrant, exciting international political arenas.
Eligibility Requirements:
Eligibility: Applicants must:

Be between the ages of 18 and 25 on 17 September 2016;
Be willing and available to attend the entire Youth Forum in Johannesburg, South Africa, from September 17-25, 2016;
Be able to read, understand and speak English proficiently, as determined by IFAW.
In possession of a valid passport and fulfill all visa requirements for travel to South Africa for the Youth Forum.
Be willing and able to commit to pre-and post-Youth Forum work requirements as outlined in the Addendum to the Application.
Be willing and able to participate in media opportunities and promotion of the Youth Forum, such as by providing your photo, biography and quotes for use on our website and by other collaborating organizations.
Be willing to execute a waiver form to be provided by IFAW; or if under the age of majority in their home country at the time of the Youth Forum to obtain their parent or guardian's signature on a waiver form to be provided by IFAW.
Be willing to agree and conform to a code of conduct during the Youth Forum to be provided by IFAW.
Selection and Benefits
Successful applicants will need to demonstrate commitment to wildlife, environmental, conservation and/or sustainable community development issues to earn their place at the Forum from September 17-25, 2016.
You will need to be willing to devote time prior to and following the Youth Forum to engage with a wider youth community online, demonstrate how you will use what you learn, and contribute to the diversity of the group experience.
Travel and participation costs covered
Selection Timeline:

All applications must be submitted by 11:59PM/23:59 GMT 4 December 2015 in order to be considered
The successful applicants will be selected and notified by the end of January 2016 and will be required to submit biographical information with photos by mid-February 2016.
Application:
For More Information:
Visit the Official Webpage of the 2016 Youth Forum for People and Wildlife