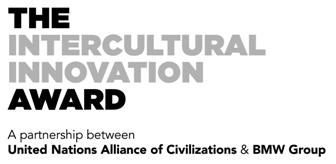 Application Deadline: 30 April, 2014.
The Intercultural Innovation Award is a partnership between the United Nations Alliance of Civilizations (UNAOC) and the BMW Group, with the aim to strengthen their commitment to encouraging cultural diversity and coexistence among communities.
The Award searches for innovative and sustainable projects around the world that are promoting dialogue and cooperation among people from different cultural backgrounds using novel and creative methods.
Eligibility Criteria:

Projects implemented by non-for-profit organization such as a non-governmental organization, charitable organization, research and educational institution, labor union, indigenous group, faith-based organization, professional association, foundation and local or municipal branches of government.
Applying organizations must have been operational for a minimum of 2 year before August 28, 2014; with funding base and project implementation.
Applying organization's field of action must fall within at least one of the following thematic clusters: migration and integration; intercultural awareness; education for intercultural citizenship; the role of specific groups (faith-based; women; youth; media) in promoting intercultural understanding.
The applying organization must have the willingness to expand the range of action of the project with the UNAOC, the BMW Group and other partners.
Organizations that have previously received any UNAOC recognition are not eligible to apply to the Intercultural Innovation Award.
The Award:
The Intercultural Innovation Award is bestowed upon ten organizations every year.
A total of 100,500 USD is offered to the awardees, of which 40,000 USD goes to the winning project.
Winners will become members of the World Intercultural Facility for Innovation (WIFI) and the awardees get one-year support and consulting from the UNAOC and the BMW Group.
The top ten finalists will be invited to present their projects at the 6th UNAOC Global Forum in August 2014 in Bali, Indonesia.
The WIFI, a program initiated by the UNAOC in cooperation with the BMW Group, helps winners to become more efficient and to expand.
Apply Now for the Intercultural Innovation Award
For More Information:
Visit the Official Webpage of the Intercultural Innovation Award