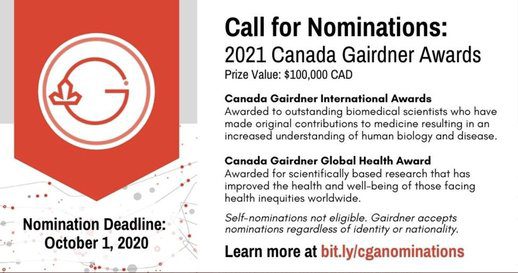 Application Deadline: October 1st 2020
The Canada Gairdner International Award recognizes outstanding researchers whose unique scientific contributions have increased the understanding of human biology and disease and contributed to the relief of human suffering.
Quality nominations are essential to the evaluation process. Packages should be accurate, current, and complete throughout the five year period of consideration. The nomination portal is open each year from mid-April – October 1 for edits, changes or additions by nominators

Laureates each receive $100,000 CDN that can be put towards anything the laureate wishes. Past laureates have used their winnings to support their labs, their research or even paid for their niece to attend medical school.

Conditions of Award
Upon notification, the award must be accepted by recipients within a term decided by the Foundation, and be received in person by the recipient at the Canada Awards gala in October 2021.
Recipients are expected to participate in the National Program that takes place across Canada.
The Prize is valued at $100,000 CAD, and is for the personal use of recipients.
Expenses for travel & accommodation for recipients and their partners to accept the awards are by Gairdner.
For More Information:
Visit the Official Webpage of the Canada Gairdner International Award 2021