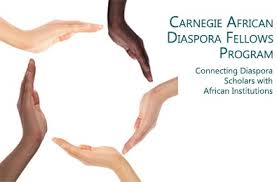 The Carnegie African Diaspora Fellows Program (ADF) is a scholar exchange program, offered by Institute of International Education  in partnership with Quinnipiac University (QU) and funded by a two-year grant from Carnegie Corporation of New York (CCNY). ADF will support 100 short-term faculty exchange fellowships for African-born academics.
The program exemplifies CCNY's enduring commitment to higher education in Africa. IIE will manage and administer the program, including applications, project requests and fellowships. QU will provide strategic direction through Dr. Paul Tiyambe Zeleza and an Advisory Council he will chair.
ELIGIBILITY
African-born academics currently living in the United States and Canada and working in higher education.
Fellows will engage in educational projects proposed and hosted by faculty of public or private higher education institutions in the following CCNY partner countries: Ghana, Kenya, Nigeria, South Africa, Tanzania and Uganda.
Fellowship Worth
Fellowships of two weeks to one semester in Africa are envisioned for Diaspora scholars.
Fellowship funding to scholars will include a daily stipend, international travel, domestic travel to and from airport in Canada or United States and health benefits coverage.
The host institution is encouraged to fund housing, meals and local transportation to and from the airport in the host country.
For More Information:
Visit the Official Webpage of the Carnegie African Diaspora Fellows Program