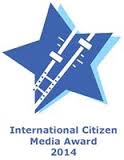 Deadline: 31st of August 2014
Topic: Work-Life-Balance: Reconciling Work and Family Life
The International Citizen Media Award 2014 intends to honor tremendous international work in the field of citizen media and its products in the categories "Video" and "Audio" that have been created by private, non-commercial producers.
The award distinguishes the dedication of citizens of all countries and their audiovisual products and their reporting concerning locally, regionally, globally and socially relevant topics.

Guidelines:
Producers: single participants, groups, associations, civil initiatives, school classes and especially producers, actors and editorial teams in the field of citizen media work
Only one product per producer
Production period: between 1st of July 2013 and 31st of August 2014
Duration: No product should be longer than 20 minutes
Language: English
Non-English Products in both the video and audio category must include an English transcript or, in case of a video product, English subtitles.
Video:
Winner 1000 € prize money, trophy, certificate
Runner-up : ,Participation in an international media camp, Trophy, certificate
3rd place : 300 € prize money, trophy, certificate
Audio:
300 € prize money, trophy, certificate
Registration:
There are several ways to deliver your product:
As Video DVD
As Audio CD (only applies to products in the category "Audio")
As Mini DV tape or DVCAM tape
As File*, saved on one of the following storage devices: DVD, CD, USB flash drive, SD card
Online via FTP download or a filehoster or permanently available on a video portal (like YouTube)
Application form
In order to register for the 2nd International Citizen Media Award, you have to sign the application form and send it to us (if you contact us online, provive a scan of the signed form) – in one delivery with your product. Otherwise, your submission will be revoked.
PDF-Download Application form – 1543 KB, PDF (requires Adobe Reader)
doc-Download Application form – 75 KB, .doc (requires Microsoft Word or Open Office)
For More Information:
Visit the Official Webpage of the International Citizen Media Award