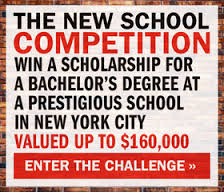 Competition Deadline: February 1st 2014
Win a scholarship for a bachelor's program in art and design, music, the liberal arts or drama from The New School in New York City
The New School is a legendary, progressive university comprising schools bound by a common, unusual intent: to prepare and inspire its 10,510 undergraduate and graduate students to bring actual, positive change to the world.
Partner Schools:
ELIGIBILITY
Open to all high school students and college students worldwide interested in applying or transferring to one of the five participating divisions at The New School.
Scholarship winners must be a high school graduate on or before June 2014. The winners are expected to start their undergraduate program in the fall of 2014.
PRIZES
One full and one partial scholarship for a bachelor's program to each of five participating divisions at The New School
Not graduating high school this year? Show your talent for The New School and win an Apple iPad mini. One extraordinary submission for each of the participating schools will be selected.
For More Information: