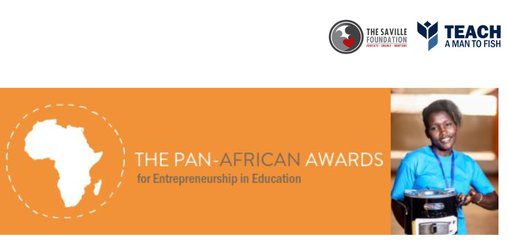 Application Deadline: August 16th 2019
The Pan-African Awards for Entrepreneurship in Education recognise African-driven and African based organisations addressing skill gaps, financial insecurity and underemployment through innovative entrepreneurial education programmes.
With an emphasis on sustainability, the awards offer monetary prizes up to $15,000 as an investment in organisations whose inspirational work is transforming the futures of African Youth. Supported by The Saville Foundation and managed by Teach A Man To Fish, the Pan-African Awards combine the aims and expertise of both organisations.
Prizes:

First Prize of $15,000
Two​​Runners-Up Prizes of $5,000
Future Partner prize of $5,000
There are four cash prizes available for top applicants. W​inners will also benefit from enhanced visibility, networking opportunities and mentorship on scaling and impact development.
A​pplicants that reach the shortlist stage will be invited to apply for the Future Partner Prize. For this prize,organisations are required to submit ideas on how they could partner with Teach A Man To Fish to take the School Enterprise Challenge ​programme to their network of schools.
Prize winners are expected to use the prize funds toward furthering their work as explained in their Pan-African Awards for Entrepreneurship in Education application. For exceptionally high performing organisations, it is possible to win both a top prize and the partner prize.
Requirements:
The main features of projects and programmes we award are:
●Entrepreneurial​: tackling problems in education by teaching, training and empowering young peoplethrough hands-on entrepreneurial experience or generating income to fund education.
●Sustainable​: generates funding beyond donations and subsidies as a primary sources of income, ableto retain and grow participants and promotes environmental protection.
●Create Impact​: demonstrate measurable results for educational achievement and economicoutcomes for participants and the wider community.
●Experiential: ​provide students with hands-on experience in a live environment
How to Apply
1.You will find an online application form at ​teachamantofish.org.uk/pan-african-awards-application
An offline template will be available to download to plan responses.
​PLEASE NOTE: ​this document isonly for planning purposes – we will not accept forms submitted by email.
2.Please read the information in this document, the information provided on our website, and the competition
For More Information:
Visit the Official Webpage of the Saville Foundation Pan-African ​Awards ​for Entrepreneurship in Education 2019