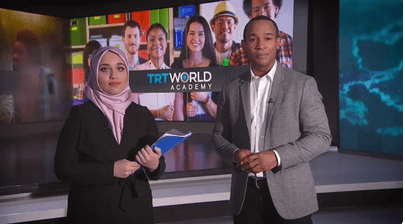 Application Deadline: May 20 2017.
 The TRT World Fellowship will appeal 15 talents including junior journalists and recent graduates who are interested in the opportunity of producing balanced news with a humanitarian focus. You will join a diverse group of individuals from around the world including journalists, editors, broadcasters, researchers and freelancers.
The direct focus of this Fellowship Program is to reach people who want to get familiar with the perspective of TRT World, keep up with the changes in the media industry and improve their understanding of Turkish culture.
TRT World Fellows will spend three months (5th June – 1st September 2017) with the TRT World Team, in one of Turkey's newest channels, which brings a distinctive voice to the global news landscape. There will be one period of intensive language courses during the Fellowship period.
The main objective of this program is to foster next generation talents who are passionate about journalism. In this process they will be able to exchange ideas and experiences with a diverse and international peer group.

The TRT World Fellowship is an intensive program in Istanbul designed to develop, integrate and apply the skill sets of young talents from around the world in support of our newsroom.
Develop a global set of contacts
Expand your journalism skills
Learn about Turkish culture and history
Eligibility Requirements
TO BE ELIGIBLE, APPLICANTS MUST:
Be ambitious about journalism
Be native in the English language
Be in the early stages of their career
SELECTION CRITERIA INCLUDE:
Commitment to engagement in the related departments;
Special capacity for critical, creative and strategic thinking;
Submission of an essay about the motivation for joining the Fellowship Program;
Submission of a self-produced creative content;
Fellows show interest in the Turkish culture and history;
Commitment to full-time residence in Istanbul for the entire duration of the program
Benefits:
Travel Scholarship

A taxable stipend to cover the costs of living in Istanbul

Participants will benefit from TRT World accommodations, services and counseling. TRT World's associate producers will host Fellows.
Objective 1 – Journalism training
The TRT World Fellowship will provide journalism training to participants who will:
Develop an understanding of the media industry, in general, through practical courses and workshops, which will cover: storytelling, digital journalism theories and its practices and the latest issues such as fact checking and sourcing.
Visit facilities of TRT World departments from newsroom to studios.
Attend seminars given by a diverse and high-level range of guest speakers who will share their insights into key political trends and developments especially around Turkey, the Middle East and Eurasia.
Work with experienced supervisors and get a broader sense of broadcasting.
Become familiar with the academics and
publications in Turkey
Objective 2 – Master Classes
The TRT World Fellowship will also provide Master Classes to participants who will:
Benefit from the extensive learning activities offered by TRT World, including interaction with prominent academics and access to various seminars and lectures, which include topics ranging from history, political thought, foreign policy, challenges of the 21st century and future trends.
Attend panels and seminars that include the topics of African, Middle Eastern, South Asian, Eastern and Western European relations of Turkey.
Attend round table discussions.
Objective 3 – Site Visits
Fellows of TRT World will:
Join trips to key Turkish cultural and political organisations and think-tanks.
Visit news organisations and gain insights into how they are approaching industry challenges.
Develop an understanding of Turkey's cultural and historical background through meetings with prominent figures in Turkey.
APPLICATION PROCESS OVERVIEW:
Please note that application for admission to the TRT World Fellowship Program is completely an online process. There are no paper forms to complete or mail.For further information please visit the webpage www.trtworld.com/fellowship or email us at [email protected]
IMPORTANT NOTE:
* Please send your CV and answer the questions below in one Word Document:        •            • Do you have any experience in the media sector (Internship, Work Experience etc.)Name fellowship or internship programs you have been involved with so far (if any)
• Write an essay (min. 300 Words) about your motivation to join the TRT World Fellowship Program
Furthermore, please also provide us a link to self-produced creative content (e.g. Video, Design, Publications, Social Media Activity, Research Paper) in the attached document.
Application Deadline is May 20 2017.
For More Information: