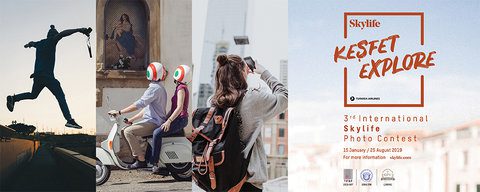 Application Deadline: August 25th 2019
Turkish Airlines (TA) Skylife 3rdInternational Photography Contest". The contest is organized by Turkish Airlines, and will be carried out by Turkish Airlines.
Are you ready to tell the entire world about your world, perspective, feelings, what you see, your philosophy, what you know and hear? How about inviting people from all across the world to this journey of discover? Turkish Airlines' world-spanning photography contest is beginning.Held last year under the theme of "The City and the Child" and participated by 9,300 photographs evaluated by an international jury, the magnificent contest's theme this year is "Discover."
Goal of the Contest

Flying to more countries than any other airline in the world from Istanbul which serves as a bridge between the East and the West, Turkish Airlines brings different geographies, cultures and communities together. Innumerable moments await to be explored in many corners of the world. There's a process of exploration for all people regardless of their age, hometown, profession, or direction in life. The exploration itself is a journey that lasts a lifetime.
This contest aims to bring together photography enthusiasts from all across the world through exploration and to invite the entire world to "look for explorations.
Subject of the Contest
"Discover"
The selection of photographs will focus on a message of curiosity that bears hope for the future through the discovery of happiness, joy, sadness, hope, nature, the world, the past, and the future. Discovery is not just about a scientific or historic revelation of a truth or finding. Discovery is an individual journey, perspective, and awareness. It's a means and an end that should be used to create a better world. The photographs should reflect this purpose.
Conditions of Participation
a. Participation to the contest is free of charge.
b. All participants must be of the age of 18.
c. All photographers, amateur or professional, may apply for the contest. Members of the Executive Committee, Contest Secretariat and the Jury members and TSFS representative, and their first-degree relatives may not participate.
d. Photographs processed with certain Photoshop or similar software effects (e.g. water color filter, etc.), excluding photographic treatments such as light, contrast, color, grain, etc. that would not disturb its characteristics, photographs obtained by merging multiple photographs,and digitally-manipulated photographs will be disqualified. The jury will have sole discretion on this matter.
e. Each contestant may participate with maximum 4 (four) Digital Color or Black & White photographs.
f. Participants acknowledge, declare and undertake that they fully own the photographs they will upload to the web site for the contest, and all relevant permissions are obtained. Any action to the contrary will be considered as a violation of the rules.
g. Any intervention or modification by contestants, aiming to mislead the assessment committee by presenting another person's photograph as their own work will be considered as a violation of rules.
h. Contestants violating the rules will be subject to the sanctions provided in the "FIAPContest Organization Standard Guidelines" https://www.tfsfonayliyarismalar.org/en/files/DOC-018-2017E.pdf
For More Information:
Visit the Official Webpage of the Turkish Airlines (TA) Skylife 3rd International Photography Contest 2019