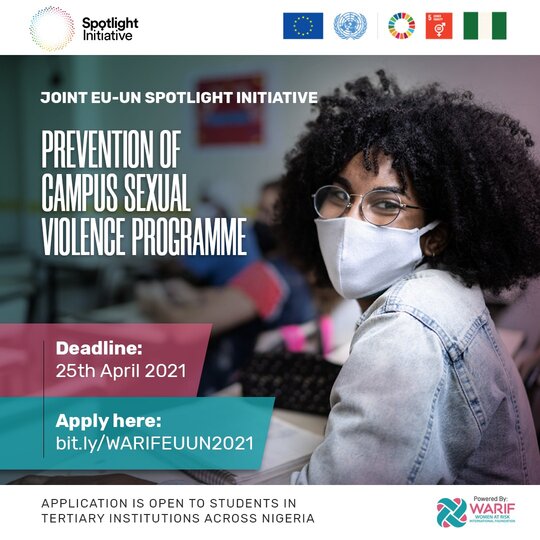 Application Deadline: April 25th 2021
Women At Risk International Foundation (WARIF) with support from the Joint EU-UN Spotlight Initiative is implementing the third cycle of the first ever virtual educational programme on ending sexual and gender-based violence in universities, polytechnics, and other tertiary centres of higher learning. This cycle will be a hybrid version with both physical and virtual classes to accommodate students from all geopolitical zones.
This call for application is open to all students currently enrolled in any tertiary institution across Nigeria. It is a 4-week learning program, designed to build the skills and knowledge of selected participants in responding to and preventing sexual and gender-based violence.
WARIF encourage applications from passionate individuals, influencers, survivors & advocates, who are current students of any tertiary institution  in Nigeria.

Applicant must:
Dedicate a mandatory minimum of 1 hour weekly to in person/virtual training sessions for a 4-week period
Commit to participating in group activities
Complete all course content within the stipulated time
Have a strong interest in issues relating to gender equality, preventing violence and/or community development
Application criteria
Be an enrolled approved student of any Nigerian tertiary institution
Have a valid student ID card
Be 16 years or older as at May 1st
Ensure application is completed before the deadline
For More Information:
Visit the Official Webpage of the WARIF x Joint EU-UN Spotlight Initiative: Prevention of Campus Sexual Violence Program 2021