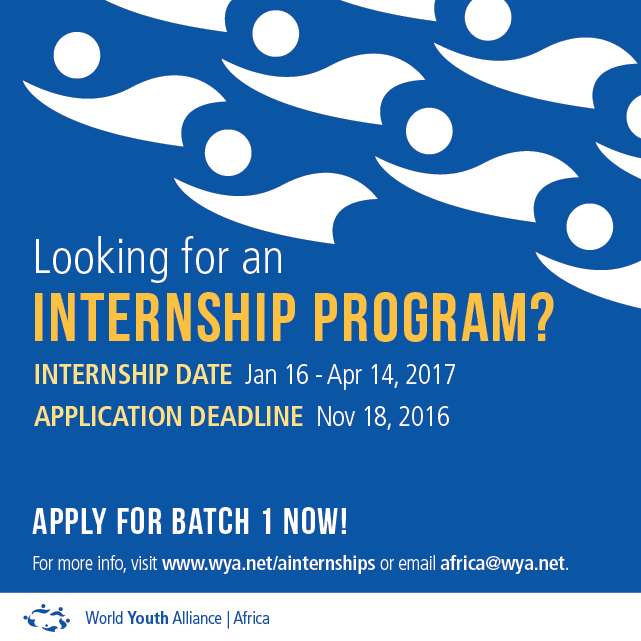 Application Deadline: November 18th 2016
The World Youth Alliance Internship Program provides opportunities for young people who are inspired by the ideas and work of the World Youth Alliance (WYA) to gain professional skills working on WYA's projects and a substantive learning experience on WYA's core ideas. Projects are designed to enhance each student's specific academic background and interests. Interns receive mentorship and training from WYA staff members.
Ideal candidates possess a strong desire to protect and promote human dignity while making a positive impact on society. Candidates must be proactive, self-driven, resourceful, detail-oriented, and humble individuals with a willingness to learn.
What's in it for you?
a) Introductory Training
Undergo WYA's Certified Training Program (CTP) and learn about human rights philosophy and the dignity of the person.
b) Project Management
Work on projects suited to your interests and strengths under the supervision of WYA staff.
c) Network Building
Attend different events and meet new contacts as you represent WYA in various occasions
Application Requirements
Completed regional application form
Resumé or Curriculum Vitae
Two letters of recommendation
Only if you are a new member: Your signed copy of the WYA charter
You will receive a confirmation receipt via email within three weeks of the internship application deadline only if your application is complete. If your application satisfies the criteria for selection, someone from our internship committee will contact you to arrange an interview.
For More Information:
Visit the Official Webpage of the World Youth Alliance Africa 2017 Internship Program