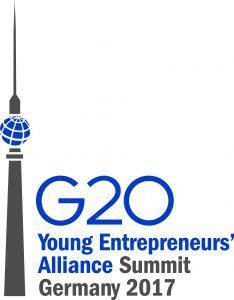 Young Entrepreneur South Africa (YESA) is looking for 35 of South Africa's best and brightest to represent our country at this year's 2017 G20 Young Entrepreneurs Alliance Summit in Berlin, Germany from June 15-17.
The G20 YEA Summit is an unforgettable international experience. Over four action-packed days, including one day of optional pre-summit activities, 35 delegates from across South Africa will participate in a variety of business-building, policy-making and networking activities alongside 500+ young entrepreneurs and entrepreneurial leaders from across the G20 countries.
Eligibility:
18-39 years old
South African Citizen or Permanent Resident
Business owner, co-founder and/or majority shareholder of a South African business that has been in operation for at least 2 years* or a leader in the entrepreneurial ecosystem
Able to communicate in English
Familiar with the challenges facing young entrepreneurs
Demonstrates leadership qualities and a strong interest in entrepreneurship policy
Able to cover all costs associated with participating as a delegate**
Become an Entrepreneurial Leader and Ambassador
Your role as a G20 YESA delegate goes beyond the Summit. As a G20 YESA delegate, you will become part of a cross-South Africa network of champions for youth entrepreneurship representing the interests of young entrepreneurs, advising on issues of importance, and sharing challenges and proposing solutions. This includes the opportunity to engage with stakeholders and media, and to participate in government relations efforts to advance the G20 YEA recommendations.
Delegate Responsibilities:
Act as a champion for youth entrepreneurship both within South Africa and abroad
Represent the interests of young entrepreneurs
Engage with various stakeholders and media on a local level to discuss issues identified by the G20 YESA and to share findings from related reports
Participate in the group conference call prior to the summit
Participate in post summit reporting activities
Please note that only 1 person may apply per company/organization. *Exceptions may be made for businesses that have been operating for less than 2 years where the applicant can demonstrate significant business growth (preferably global).
**Delegates are responsible for booking their own trip incl flights, hotel and summit registration fee, etc. A R1000 non-refundable fee payable to G20 YESA is required to confirm a spot on the South African delegation. This fee will be used towards costs related to delegation coordination, training and activities in Berlin.
For More Information:
Visit the Official Webpage of the Young Entrepreneur South Africa (YESA) 2017 G20 Young Entrepreneurs Alliance Summit