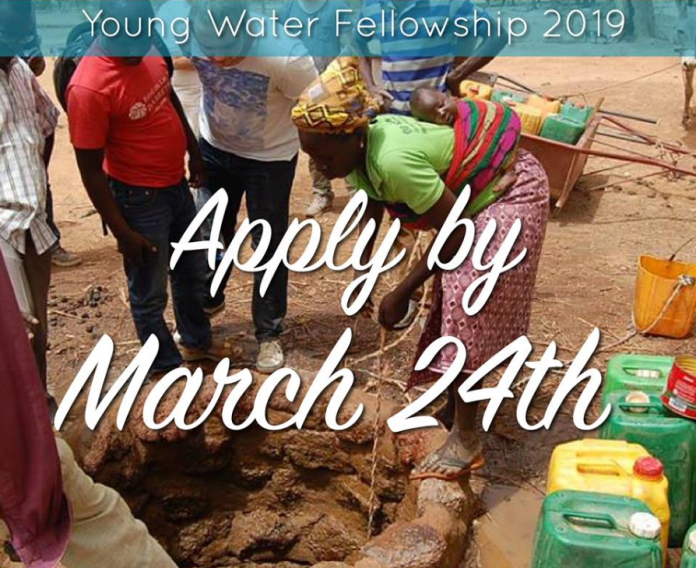 Application Deadline: March 24th 2019 (midnight CET time)
The Young Water Fellowship Program is the flagship program which aims to empower young leaders from low and middle income countries to implement projects to tackle water, sanitation & hygiene (WASH), water pollution and water scarcity issues, by offering them an intensive training program, seed funding grants for their projects, and mentoring support by senior level experts during one year.
Each year, this program brings about 10 young community leaders capable of successfully designing and implementing sustainable and inclusive water initiatives that significantly improve living conditions in their communities, while contributing to the achievement of SDG #6 (water and sanitation for all).
In 2018, 2019 and 2020 the YWF will have a special focus on social entrepreneurship. Young people with social businesses ideas (or projects that can be turned into social businesses) that address water-related issues are welcome to apply

Young Water Solutions is an international non profit organization aiming to develop and support the potential of young people to contribute to universal water, sanitation and hygiene (WASH) and water resources management.
Requirements
Be 18 to 30 years old at the time of the application
Be the founder or co-founder of an initiative that contributes to the solution of a well-defined water problem in your country. The initiative should be in its initial stages and have the ability to be turned into a social enterprise (i.e have a long-term sustainability component or business model).
Be a resident from this list of low and middle income countries.
Have a valid passport and be available to attend a workshop in Europe from August 3rd to September 7th 2019 (note that these dates might be subject to change),
All training costs are covered by the organization (flights, transportation in Europe, accommodation, meals), but participants must cover their visa expenses and transport costs to the closest international airport in their country of residency.
Be able to communicate in English (intermediate level at leas
The next call for applications will be open from February 22nd to March 24th (midnight CET time) for one month. You can download the Terms of Reference.
– To apply, you will be asked to fill in an online form. The link to the form will be made available when launching the call. We recommend that you start preparing your application offline using the Word version here.
– While preparing your application, please read our guidelines to increase your chances of being selected.
– Further questions? Check our Q&A below. If you can't find an answer to your question, please contact us here: [email protected]
For More Information:
Visit the Official Webpage of the Young Water Fellowship Program 2019