The Samsung Smart App Challenge (SSAC) contest offers $4.08 million in cash prizes and mega marketing support for app promotion to the top 80 apps including 60 Samsung Apps Super Apps and 20 Best S Pen Apps featuring the most creative GALAXY Note Stylus Pen (S Pen) functions.
Contest entrants will be divided into two categories:
Samsung Apps Super Apps: Winning entries will be decided by the public, with the 30 most downloaded games and 30 most downloaded non-game apps winning a share of the prize money.
Best S Pen App: A panel of judges will decide the winning entries, which will consist of 20 innovative applications which use S Pen's functionality in interesting and experiential ways.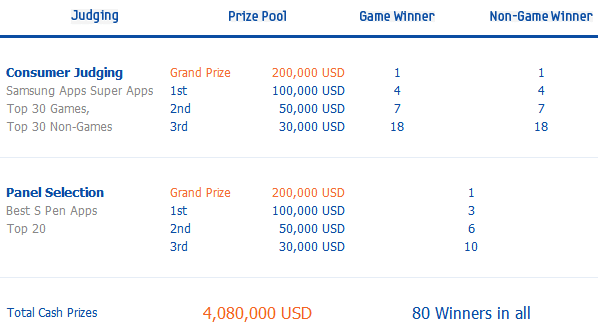 Winning entrants will be rewarded with record-high prize money and a variety of promotional benefits through Samsung's global channels. They will be given a chance to promote their apps through a variety of social media channels as well as other online and offline platforms such as Samsung Mobile, Samsung Apps and Samsung Developers.
Timeline:
Registration & Entry Period: May 7, 2012 at 00:01 – Sep. 30, 2012
Download Counting: May 7, 2012 at 00:01 – Sep. 30, 2012
Judging: Oct. 1, 2012 – Oct. 30, 2012
Winner Announced: Oct. 31, 2012
Registration Process