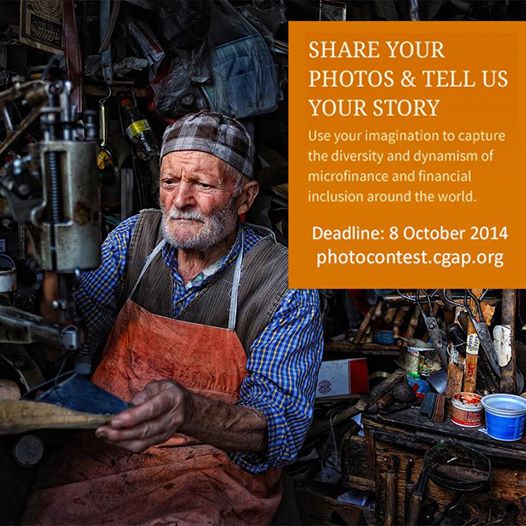 Submission Deadline: October 8, 2014.
Share your photos and tell us your story
Use your imagination to capture the diversity and dynamism of micro finance and inclusion around the world.
The annual CGAP Photo Contest, which aims to highlight stand-out photography from amateurs and professionals around the world depicting financial inclusion, is now open for entries.
CGAP (the Consultative Group to Assist the Poor)  is looking for photos that illustrate the remarkable ways access to a variety of financial services, such as savings, insurance, payments, and credit, can help poor people manage their complex financial situations. Mobile financial services are one tool millions of poor people use to enhance their lives, but they are not the only option.

Community-based savings groups, small enterprises, and microfinance are other examples of financial inclusion in action. Submissions to the CGAP Photo Contest may represent a range of products, institutions, and approaches, and may touch on a broad variety of social, economic, developmental, and technological issues. Entries are welcomed from all regions, in both rural and urban settings.
CGAP (the Consultative Group to Assist the Poor) is a global partnership of 34 leading organizations that seek to advance financial inclusion.
ELIGIBILITY
You are from any country in the world,
You are 18 years or older
You are an amateur (interested in photography) or professional photographer
Prizes:
First Prize:  $2000 USD gift certificate for photography equipment and accessories.
Second prize :  $500
Third prize $250 gift certificates.
 Winning photos will also be featured on CGAP's websites – www.cgap.org and www.microfinancegateway.org –
Featuring your work in exhibitions at the World Bank in Washington, D.C USA.
YOUR PHOTO
Make sure that your photo is
Original: you took the photo yourself
Respectful to others and sensitive to culture
not altered (you are allowed to crop, adjust color or contrast)
You are allowed to submit up to 20 photos
A digital photo or scan of 5 MB max.(only jpg, jpeg, png)
Submit your Picture Now to take part in the 2014 CGAP PHOTO CONTEST