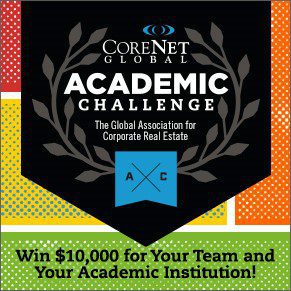 Application Deadline: July 31st 2015
CoreNet Global, the world's leading association for corporate real estate (CRE), is launching its first-ever Academic Challenge. Students from around the world are invited to think creatively about a problem facing CRE professionals
This competition is designed to attract students from all academic disciplines to tackle key challenges facing the profession, and perhaps more importantly, the challenges facing the enterprises members serve
Who Can Participate?
The Challenge is a worldwide competition for students of all disciplines pursuing a Bachelors, Masters or PhD-level qualification, or the local equivalent, at a recognized degree awarding institution, such as a University, Grande Ecole, College or Fachochschule, hereafter referred to as "University," on a full-time or part-time basis.
Students must be registered with their home institution at the time they submit materials for Round One of the Challenge.
Awards
The winning team will receive $10,000 to be equally divided between registered team members. Each participating student will be wholly responsible for the payment of any tax or amount of any kind due (if any) in respect to the award of a prize under the Challenge.
Additionally, the host institution of the winning individual or team will be awarded a grant of $10,000 to support the study of corporate real estate, or related subjects.
CoreNet Global reserves the right to award additional 'discretionary' prizes during or at the end of the competition.
Preliminary Schedule *
• Registration Opens and Challenge Materials Released – Early March 2015
• Final Registration Deadline – 31 July 2015
• All Challenge Submissions Due – 31 July 2015
• Teams to Confirm their Final Round Participation – 11 September 2015
• Challenge Finalists Announced – 14 September 2015
• CoreNet Global Academic Challenge Final Round (Los Angeles, CA) – 18 October 2015
• Awards Presentation & Recognition Dinner (Los Angeles, CA) – 20 October 2015
* This schedule is subject to change.

Round One
To complete Round One each team must submit the following (all "page" mentions refer to a standard A4 or equivalent document):
a. A one-page executive summary using 11-point Arial font with one-inch margins
b. A written submission up to five pages using 11-point Arial font with one-inch margins
c. Up to five exhibits (one page per exhibit)
d. One multimedia presentation up to five minutes in length (Slideshare, YouTube, etc.)
The deadline to submit your materials for Round One is 31 July 2015. Entries submitted after this deadline will NOT be accepted.
For More Information:
Visit the Official Webpage of the CoreNet Global Academic Challenge