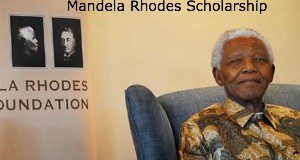 Application Deadline: June 12 2014
The Mandela Rhodes Foundation offers young Africans who exhibit academic prowess as well as broader leadership potential an educational opportunity unique on the continent. While pursuing their chosen post-graduate degree, each Scholar benefits from access to leadership development programmes, rooted in the principles underpinning the Foundation.
In addition to the opportunity to interact with a diverse group of fellow-Scholars that spans the continent and academic disciplines, they become part of a wide-ranging network of young Africans of excellence who are expected to play leadership roles in their fields and societies in the years following their time 'in residence'.
Eligibility
An African programme to address the needs of Africa
Open to citizens of all African countries.
For postgraduate study at a recognised South African university or tertiary institution (Honours and Masters degrees only at this stage).
Open to individuals holding a recognised first degree, and who would be under the age of 30 at the time of taking up the Scholarship.
Designed for individuals that reflect in their character a commitment to the principles of education, reconciliation, leadership and entrepreneurship.
Download the Scholarship Application Form
DOnwl