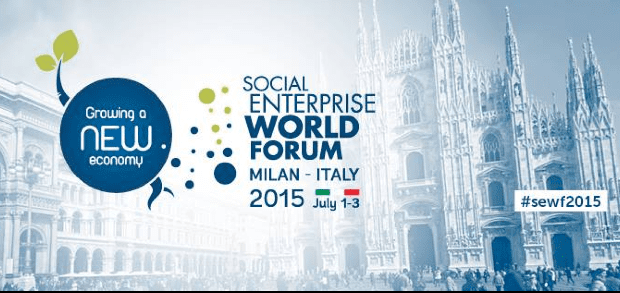 Application Deadline: March 31st 2015
Early Bird Registration: February 28th 2015
The Social Enterprise World Forum (SEWF) is the International event for social enterprises all over the world to come together and discuss policy and practice, to learn from one another and to network.
Delegates are encouraged to attend from all types of organisations with interest in social enterprise and in making a difference in the world.

The 2015 SEWF in Italy is the 8th edition of the Forum and its first time back to Europe after the launch in Edinburgh in 2008. The Forum will be held from the 1st to the 3rd of July, with the opening at the Auditorium of Milan Expo 2015 (to be confirmed), and the following days at the IULM University : IULM: Università di Lingue e Comunicazione which will also host a market place for social enterprises, a social enterprise speakers corner, and plenty of networking space. Before and after the event, field trips to discover Italian social enterprises will be organized
During the SEWF there will be 10 plenary sessions and 35 parallel workshops on five themes:

• The ecosystem for the development of social enterprises
• Impact investing
• The role of the social enterprises in the fight against the poverty
• Social enterprises in agriculture
• An Effective communication and design for social enterprises
Social Enterprise field visits
The SEWF offers an intense pre and post-Forum program with visits the most exciting and innovative Italian social enterprises in the north, centre and south of Italy.
The field visits will give delegates the opportunity to explore and interact with the rich world of the social enterprises in Italy.
Delegates are able to choose between 1 to 2 days tours, which include visits to the most inspiring social enterprises active in sustainable agriculture, in the productive use of confiscated land , in social housing design and much more!
Field visits are organized in collaboration with relevant national networks such as CGM.
How to Register:
Register to become a delegate for the 2015 Social Enterprise World Forum
For More Information:
Visit the Official Webpage of the 2015 Social Enterprise World Forum