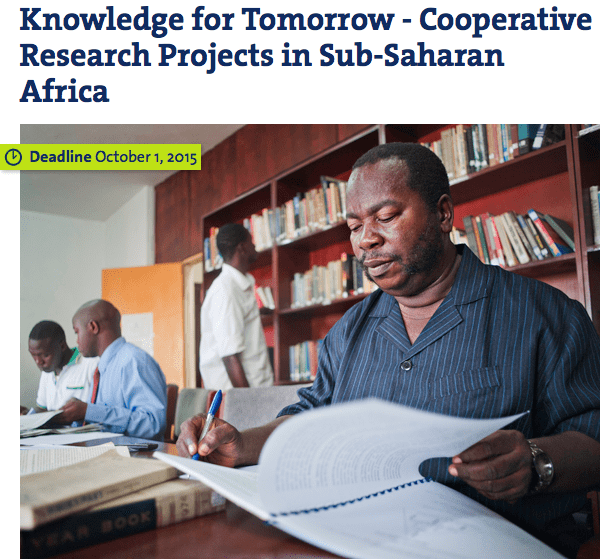 Application Deadline: October 1st 2015
Knowledge for Tomorrow – Cooperative Research Projects in Sub-Saharan Africa
The funding initiative is open to all disciplines and aims at the development and sustainable reinforcement of research in Sub-Saharan Africa. Research projects, developed and carried out by African scholars and scientists in close cooperation with their German partners, shall provide junior researchers in Africa with an opportunity to enhance their skills and academic qualifications. Special emphasis is put on the development, reinforcement, and extension of academic networks inside Africa beyond existing language barriers.
This funding initiative aims at extending and strengthening research in the regions of Sub-Saharan Africa.

This postdoctoral fellowship program aims at providing sustainable support for research in the humanities. It offers opportunities for postdoctoral researchers at both junior (i.e. up to 3 years post -PhD) and senior level (i.e. 3 to 6 years post-PhD) to develop and conduct their own research projects
of a duration of three years.
While open for any applicant who meets the eligibility criteria,the current call builds on a previous call in 2012, and especially invites those junior fellows currently funded within the initiative to submit applications for senior fellowships. Similarly, senior fellows currently funded within this initiative can apply for final funding for up to two years.
Thematic Scope
The call is open to applications from the humanities, including disciplines such as history, cultural anthropology, archaeology, cultural studies, philosophy, literature, linguistics, musicology, art history, media studies, visual studies, and religious studies.
Fellowship Worth:
The fellowship covers salaries for the fellow (and for MA and/or Ph.D. students) as well as non-personnel costs for e. g. consumables, equipment, travel, and administration of up to 110,000 EUR for junior fellows and of up to 145,000 EUR for senior fellows.
Furthermore, the budget may include a salary for one lecturer to reduce the personal teaching workload of the applicant.
For More Information:
Visit the Official Webpage of the  2015 Volkswagen Foundation Postdoctoral Fellowships