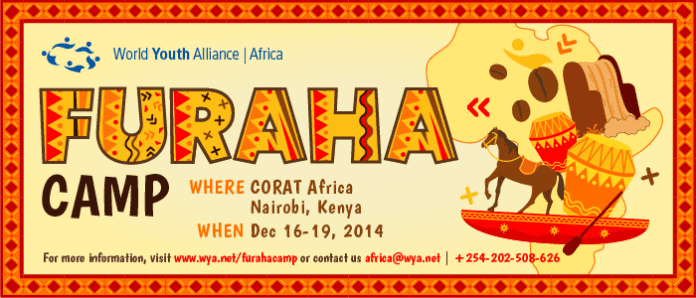 Application Deadline: Friday 5th December 2014.
What: The World Youth Alliance Furaha Afrika Camp
Where: CORAT Africa, Nairobi, Kenya from
When: Tuesday December 16 to Friday December 19, 2014.
Who: The camp is open to all applicants within the ages of 15 – 19 years old in Africa.
The World Youth Alliance Furaha Afrika Camp is an exciting program that provides an enjoyable and active environment for young people to discover the inestimable dignity of the person and develop in an environment with fellow young people in a relaxed camp atmosphere.
This year, the theme will be "Happiness, Fun and Self Discovery" and it will be first Furaha Afrika Camp.

The camp participants will be able to:
Gain a better understanding and ability to communicate articulately the notion of human dignity through our Certified Training Program.
Expand horizons, team work capacity and develop leadership and social skills through the various group activities.
Interact with other young people and make new friends.
Open up other opportunities to participate in WYA's other regional and international events.
Gain a finer understanding of the exciting world of WYA.
The program and discussions will include:
The Founding of WYA
The link between Human Dignity and Human Rights
Placing the Person at the center of Sustainable Development
WYA Advocacy Issues
What in the world is Freedom? The link between freedom and human dignity
Sports, Aerobics, Nature Trails
Talks on core WYA values and Purity
Movie Screenings

Talent Display
the WYA Africa's inaugural Furaha Afrika Camp will be held at CORAT Africa, Nairobi, Kenya from Tuesday December 16 to Friday December 19, 2014. It will be fully residential, and is also open,upon request, to those who might wish to commute from their homes if they live near CORAT Africa in Karen, Nairobi.  The venue is very secure, beautiful and serene with wonderful gardens in the leafy suburb of Karen, Nairobi.
APPLICATION PROCESS
1. Read and agree to the World Youth Alliance Charter by signing here.
2. Fill-out the application form and send it to [email protected]. All applications must be submitted before 5th December 2014. Accepted campers will be notified through email or as agreed by the schools.
3. If you have been accepted to the program, you may formally register and finalize your participation by paying the camp fee on or before 5th December 2014. Payment details will be included in the acceptance letter, or as agreed upon at the varied institutions.
4. You may pay in cash at our office on 1st floor Symbion House, Karen Road, Karen, Nairobi.
CAMP FEES
The camp is a fully residential camp, with fees as below. If one wishes to commute from their home to the camp venue, kindly request for fees from the office by call or email.
Early Bird Payment before Fri 21 Nov 2014, KSHS 9,500 (110 USD)
Group of 3 Fee before Fri Dec 5 2014, KSHS 9,000 (105 USD)
Regular Camp Fee before Fri Dec 5 2014, KSHS 10,000 KSHS (115 USD)
The registration fee includes the following:
1. 4 full days, 3 residential nights in two-people shared self-contained rooms (boys and girls will be assigned separate rooms in separate locations)
2. Transport to and from Nairobi
3. Meals
4. WYA Africa Camp Kit
5. WYA T-shirt
6. Certificate of Participation
7. Inspiring discussions, talks and an enriching active and relaxed environment
Note: All other travel, lodging, visa and tax expenses before and after the Furaha Afrika Camp will be the sole responsibility of the participants.

How to Apply:
For More Information:
Visit the Official Webpage of the WYA Furaha Afrika Camp