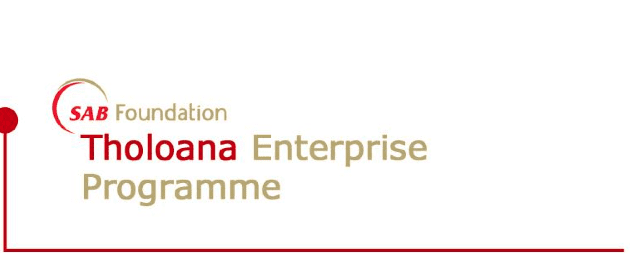 Application Deadline: March 31st 2016 (Mid Day)
The Tholoana Enterprise Programme is currently open for National Applications This round will be the only application round for 2016 so be sure to apply now to ensure you have an opportunity to become part of this year's Tholoana Enterprise Programme.
Successful candidates will be part of a high-energy solution that has helped hundreds of businesses to accelerate their success. Wrap-around support, including expert mentorship, skills training workshops, access to markets, and qualified investment-readiness support, has been shown to improve the confidence and skills of entrepreneurs.
The Tholoana Enterprise Programme supports small enterprises that benefit – or are run by – women, the youth and those living in rural and peri-urban areas. The SAB Foundation is especially keen to create opportunities for disabled entrepreneurs, who are strongly encouraged to apply. Similarly, applications are welcome from businesses working in new and/or growing sectors such as export, manufacturing, food processing, water, energy and waste management.
Eligibility Criteria
The business is black-owned* and managed.
Your business is operational.
Your business is headquartered and if registered, within the South African borders.
The business should be commercially sustainable and viable.
You are involved in the business's daily operations and management on a full time basis.
You have the skills and experience necessary for the type of business you're engaged in.
Your business is in the initial stages of operations (older than 6 months and no more than 5 years)
SAB Foundation Tholoana Programme does not fund, sponsor or partner with the following:
If you are an employee of the SAB Foundation, SAB Pty Ltd, SAB Miller Plc. , ABI and affiliates
If you have already been awarded a grant by the SAB Foundation
If your business is not operational and it is just an idea or a concept
If your business's sole operations are alcohol related i.e. tavern, shebeen, bottle store, or pub
If your business primary operations are sex, gaming, gambling, tobacco or illegal
If your business is a franchise: you are a franchisor or franchisee etc.
If your business is an NPO (not-for-profit organisation), NGO (non-governmental organisation), home based care service organisation, community uplifting project, youth development/educational organisation etc., recycling project, women and children's home, sports and recreation centre, youth diversion project, skills development project: therefore if it does not have a profit motive
If you require sponsorship for an event, a launch, a conference, a forum, a seminar, a party or a fundraising function, land and building acquisitions
If you require a bursary, a scholarship, an internship, and funding in the form of studies, exchange programmes and textbooks. etc.
If you require any form of sponsorship or donations
Apply Now for the 2016 SAB Foundation Tholoana Enterprise Programme for South Africans.
For More Information:
Visit the Official Webpage of the 2016 SAB Foundation Tholoana Enterprise Programme for South Africans.