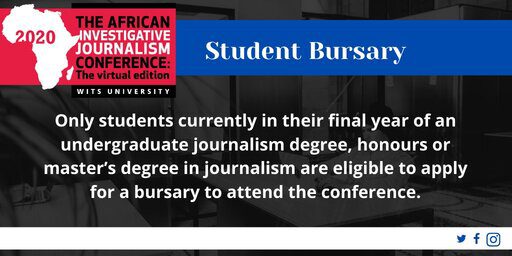 Application Deadline: Friday, 18th September 2020

The work of investigative journalists is too important to slow down during a pandemic. And the role of the African Investigative Journalism Conference (AIJC2020) in highlighting and boosting African investigative reporting is too vital to stop.
So this year we have special plans for the continent's biggest annual gathering of working journalists.
AIJC2020 will be a virtual gathering, a series of online events spread over the month of October. There will be a full and rich programme and many opportunities to engage with colleagues, network with the best on the continent, share your work, and learn about what is happening on the cutting edge of in-depth reporting and data journalism tools and techniques.
AIJC2020 Student Bursary Application
Please submit this application form and a motivation letter outlining why you would like to attend.

Please submit a letter of support on a university's letterhead, signed by your Head of Department.
The closing date for bursary applications is Friday, 18th September 2020
Only students currently in their final year of an undergraduate journalism degree, honours or master's degree in journalism are eligible to apply for a bursary to attend the conference.
Apply Now for the African Investigative Journalism Conference Bursary 2020
For More Information:
Visit the Official Webpage of the African Investigative Journalism Conference Bursary 2020