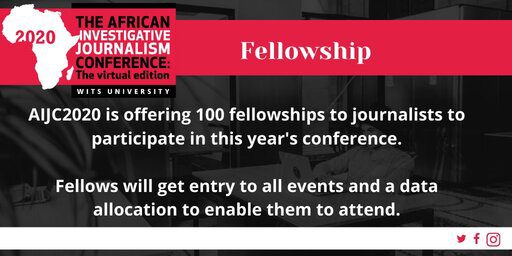 Application Deadline: September 18th 2020
The work of investigative journalists is too important to slow down during a pandemic. And the role of the African Investigative Journalism Conference (AIJC2020) in highlighting and boosting African investigative reporting is too vital to stop.
AIJC2020 will be a virtual gathering, a series of online events spread over the month of October. There will be a full and rich programme and many opportunities to engage with colleagues, network with the best on the continent, share your work, and learn about what is happening on the cutting edge of in-depth reporting and data journalism tools and techniques.
AIJC2020 Call for Fellowships
AIJC2020 is offering 100 fellowships to journalists to participate in the conference, which takes place this year as a series of online events in the period October 6 – 30. With 30+ sessions and 50+ speakers, it is a rare opportunity to share, network, learn and train alongside some of the continent's best journalists.

Fellows will get entry to all events and a data allocation to enable them to attend.
Fellows will be required to produce a story for the conference newsroom and for publication in their home country based on learnings from the conference.
To apply, fill in this form before September 18. Successful applicants will be notified by email by September 30, 2020
For More Information:
Visit the Official Webpage of the African Investigative Journalism Conference Fellowships 2020