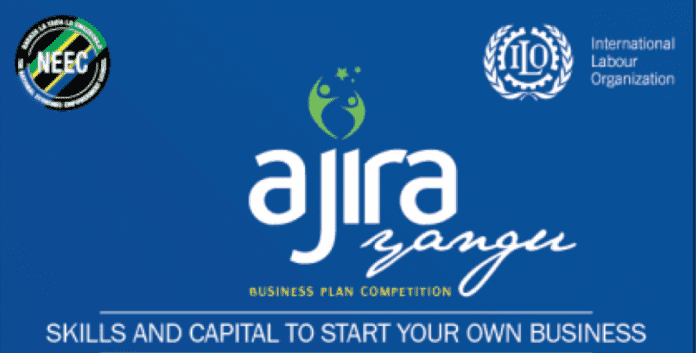 Application Deadline: May 9th 2016
Ajira Yangu Business Plan Competition is a collaborative effort between International Labour Organization and National Economic Empowerment Council to support young entrepreneurs to develop sustainable business ideas with a potential for employment creation as well as providing systematic business development mentorship over a defined period of time to young women and men running businesses in Tanzania.
The competition is an opportunity for young women and men who have started and are running enterprises with the potential of job creation but lack further support in form of growth capital, networks and mentorship which could accelerate the growth of their youth-led enterprises.
The competition seeks young entrepreneurs, women and men, who have the passion, drive, and determination to start and grow their businesses, specializing in the following sectors;

Agribusiness and agri-processing including manufacturing
Media, marketing, communications, sports, logistics, arts and culture, tourism and recreation
Green and ecological business including social business.
Information and Communication Technologies including business processing and outsourcing.
Requirements
Must be a young Tanzanian between 18-35.
Must be the founder(s) of the start-up/small business
A start-up must be based in Tanzania
Applicants can submit only one application
Your responses must not exceed a required word limit
An applicant can fill a form in a word format and save in a PDF format and send through emails shown below or an applicant can print and fill it and send in a physical address.
These terms and conditions can be modified by the organizers of the competition.
Benefits
The support/Recognition a minimum of 10 winners, individuals/companies/groups will be provided with a seed capital to start and improve their businesses.
Deadline and Important Dates
Deadline of application: 9th May, 2016.
Winners announced: 13th June 2016.
Submission details:
Applications can be downloaded from:
www.uwezeshaji.go.tz and www.ilo.org/daressalaam
Download the Application Form for the Ajira Business Plan Competition 2016
Duly filled application forms can be delivered by hand at NEEC or ILO offices in Dar es Salaam, can be sent by post (see address below), and can be sent via by e-mail
E-mail: [email protected]
Contacts:
International Labour Organization,
P.O. Box 9212
Dar es Salaam, Tanzania
Tel: +255 22 2196700
Mobile: +255 786 110060
Fax: +255 22 2126627
Email: [email protected]
For more information:
Visit the Official Webpage of the Ajira Yangu Business Plan Competition 2016