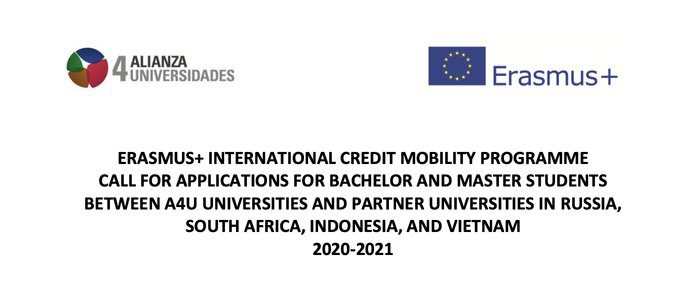 Application Deadline:27 March 2020
Alliance 4 Universities has been awarded funds under Erasmus+ International Credit Mobility programme (Action KA107). Through these funds, students and staff from partner universities in Russia, South Africa, Indonesia, Iran and Vietnam and from A4U universities have the opportunity to participate in mobility schemes
Alliance of 4 Universities (A4U) is a strategic partnership of four Spanish public universities:
Universitat Autònoma de Barcelona, Universidad Autónoma de Madrid, Universidad Carlos III de Madrid, and Universitat Pompeu Fabra in Barcelona. One of the objectives of A4U internationalization strategy is to promote mobility with leading universities in countries with emerging economies such as Russia, South Africa, Indonesia, and Vietnam.

A4U has been awarded funds under Erasmus+ International Credit Mobility Programme, which enables students from A4U universities and partner universities in the above mentioned countries to undertake a mobility stay.
The main purposes of this call are:
To offer study development opportunities to students at participating universities, and to help
them achieve sustained improvements in their knowledge.
To forge and deepen lasting links between A4U universities and its partner universities thus
enhancing transnational academic cooperation.
To improve participants' language and cultural skills, promoting mutual enrichment and
understanding.
Mobilities announced in this call should be carried out during 2020-2021 academic year during
the period of academic activity, and end before 31 July 2021.
Requirements
The calls are open to Bachelor, Master and PhD students and staff from the participating universities (details can be found in the Calls below).
Duration
For Bachelor, Master and PhD students the mobility can be from 3 to 5 months long. For staff, 7 days are covered by the grant: 5 days for teaching (or training, or both) and 2 days for travel.
Benefits:
A fixed monthly (for students) or daily (for staff) allowance and a travel quota to cover the travel expenses, which will vary depending on the distance between the sending country and Spain.
How to apply?
Read carefully the relevant call for applications.
Check the applicants' guide (below) for step-by-step instructions on how to complete the application.
Check participating universities factsheets below for their course/research offer, available services and contact details.
Complete the online application form in your category of mobility, attaching the requested documents. Applicants are strongly advised to submit their applications well before the deadline so that their applications can be checked and omissions adddressed if any.
Call for applications for Bachelor and Master students
Call for applications for PhD students and staff
Applicants' guides: for staff, PhD, Bachelor and Master students
Table of equivalence of B1 and B2 levels in English to other English certificates
Fields of education codes to be used in learning and mobility agreements
Participating universities' factsheets:
Spain: Universitat Autónoma de Barcelona, Universidad Autónoma de Madrid, Universidad Carlos III de Madrid, Universitat Pompeu Fabra en Barcelona
Russia: Lomonosov Moscow State University (MSU), Higher School of Economics, Russian State University for the Humanities (RSUH), Moscow Power Engineering Institute, North-West Institute of Management branch of RANEPA (St. Petersburg), Saint Petersburg State Polytechnic University, Southern Federal University.
South Africa: University of the Witwatersrand, University of Pretoria, Stellenbosch University, University of Cape Town, University of the Free State, University of the Western Cape
Iran: Amirkabir University of Technology, University of Tehran, Allameh Tabataba'i University
Indonesia: Airlangga University, Bandung Institute of Technology, BINUS University, Universitas Muhammadiyah Yogyakarta, Universitas Gadjah Mada, Universitas Indonesia, Telkom University
Vietnam: Hanoi University of Science and Technology, Vietnam National University Ho Chi Minh City
Application for mobility of Bachelor students

– Transcript of Records
– Learning Agreement (fill in the 1st page only. Those who apply for mobility to Spain should have their learning agreement signed by the sending institution and the applicant. Those who apply for mobility from Spain to Russia should have their learning agreement signed by both sending and receiving institutions and the applicant. Signatures can be scanned.)
– Letter of support provided by the sending university, indicating the average mark for the applicant's transcript of records, and confirming that the applicant's level of English is at least B2.
– Recommendation letter in Spanish or in English, to be sent directly by the referee to

[email protected]

with "Recommendation letter" in the subject line before 27 March 2020).
– Motivation letter
For More Information:

Visit the Official Webpage of the Erasmus+ International Credit Mobility Programme 2020