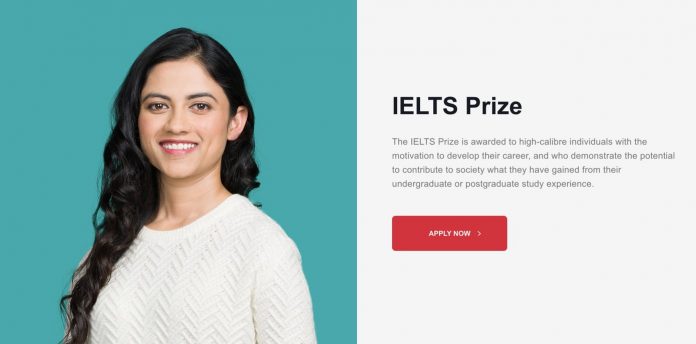 Application Deadline: February 29th 2020
The IELTS Prize is awarded to high-calibre individuals with the motivation to develop their career, and who demonstrate the potential to contribute to society what they have gained from their undergraduate or postgraduate study experience.
Eligibility
Essential eligibility criteria are that applicants must:
be a permanent resident in one of the following countries: Colombia, India, Pakistan, Nigeria, United Arab Emirates or Uzbekistan
begin undergraduate or postgraduate study in academic year 2020/2021
attend a higher educational institution that accepts IELTS as part of its admission requirements
register for an IELTS test with the British Council between January 2019 and February 2020 and be able to produce a valid IELTS score in the application form
have a minimum overall band score of 5
be able to provide an acceptance letter from the attending institution by July 2020.
Benefits:
The award is £3,000 awarded to 10 winners per country.
Ten lucky IELTS test takers in each of the countries below will be given a £3,000 prize to turn their academic dreams into reality. So the test that's trusted by educational institutions and universities globally could take you to even further, opening doors to your ideal academic field, institution and destination.
How to enter
You must:
be 18 years or above
live in the country you're applying from
have taken IELTS with British Council between January 2019 and February 2020
have an overall IELTS bandscore of 5 or above
be applying for a first year under/graduate degree in Fall 2020/Spring 2021
be applying to an institution that requires IELTS as part of its admission process.
Application process
Complete the IELTS Prize online application form and submit it together with uploaded copies of your:
1. IELTS Test Report Form
2. Recent passport size photograph
3. Passport or identification document proving your permanent residency in one of the eligible countries.
4. Special requirements certificate (if applicable)
Timeline:
Application Deadline: February 29th 2020
Shorlisting, Selection and winners announcements: March 2020
Awards Ceremony: April 2020
For More Information:
Visit the Official Webpage of the IELTS Prize 2020