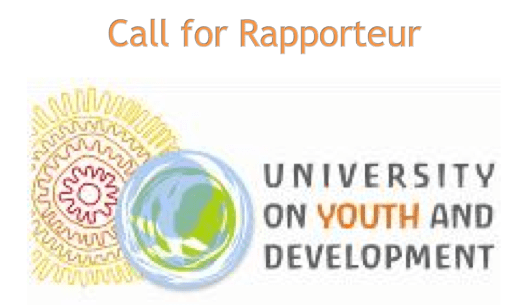 Application: July 21st 2014
The UYD is an activity organised by the North-South Centre of the Council of Europe, the Spanish Government (INJUVE), the European Youth Forum (YFJ), the Spanish Youth Council (CJE) and other international youth organisations. Since its first edition in 2000, the University annually gather representatives of youth organisations and youth movements from all over the world in the CEULAJ (Euro-Latin-American Youth Centre) to discuss, train and be trained as well as to take political action around the main issues of the global agenda.
In 2014, the University on Youth and Development will celebrate its 15th edition, under the joint theme "Youth Opportunities" and renewed hopes and aspirations, objectives and challenges are shared with partners to reinforce this space as the home of the Global Education and of the Global Youth Movement.
PROFILE

All applicants must comply with the following criteria:
Be aged between 18-35;
Be motivated by global youth work;
Have good writing skills, ability and experience in summarising and reporting different messages;
Have a good command of English. Knowledge of other languages is desirable (Spanish,French,Arabic)
Involvement in previous editions of the University on Youth and Development (as participant, volunteer, trainer, organizer) and/or other Universities of the Network of Universities on Youth and Global Citizenship, will be considered an asset.
Have previous experience as editor/co-author of publications in the Youth field;
Be committed to take part in the entire duration of the activity, for preparatory work and necessary follow-up
TECHNICAL DETAILS
The University on Youth and Development will take place in Euro-Latin-American Youth Centre (CEULAJ), in Mollina (Málaga-Spain), from 21st to 28th September;
Travel arrangements will be made by the North- South Centre of the Council of Europe for pre-paid flight tickets;
Board and lodging will also be provided by NSC at the CEULAJ;
The Rapporteur is expected to arrive at the CEULAJ/Mollina on the 19th September (morning) and departure on 28th September;
The working languages of the University shall be English and Spanish
The Rapporteur will receive a fee of 1000€ (one thousand euros) for the fulfilment of the above-mentioned tasks
The payment of the fee will be done up to 4 weeks aftersubmitting the final report.
SELECTION PROCEDURE
Interested applicants should send the enclosed application form to the North -South Centre of the Council of Europe by the 23rdof July, by email:

[email protected]

All applicants should receive an email confirming the reception of documents within 5 working days after submitting the application.
The selection results will be announced by July 31 st 2014.
Selection will be based on the motivation and experience of the applicants with regard to the above- mentioned criteria.
E-mail:[email protected]