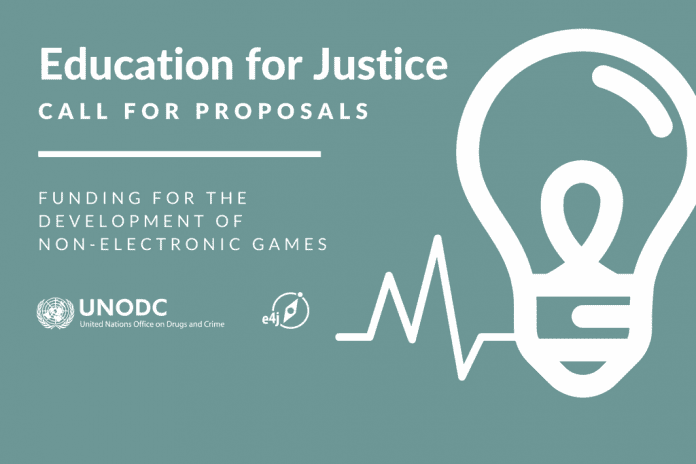 Application Deadline: August 6th 2017
UNODC's Education for Justice (E4J) initiative is currently accepting applications for funding from institutions that are interested in creating non-electronic games to educate secondary level students (aged 13-18) on the issues of crime prevention, criminal justice and other rule of law aspects. Civil society organizations, academic and/or research institutions may apply for a grant of up to USD 10,000. Applicants from any region of the world may apply.
The resources shall be used by the successful candidates for the development and testing of non-electronic games and should involve secondary level students as well as educators in the process.
Proposals should focus on at least one of the following issues:

Crime prevention and criminal justice;
Corruption;
Organized crime;
Human trafficking and migrant smuggling;
Firearms;
Cybercrime; and
Terrorism.
Through this grants scheme, E4J will promote the cooperation between organizations, students and educators to come up with innovative tools to teach on and learn about these issues. Although individuals are ineligible to apply, UNODC suggests that applicants involve game developers in the design process.
Eligibility
In order to be eligible for a grant, applicants must:
be a non-profit making organization (CSOs including NGOs, CBOs) or an academic/research institute registered under the relevant Laws of the country where it is registered;
have been registered not less than three (3) years;
be directly responsible for the preparation and management of the project, i.e. not acting as an intermediary;
demonstrate prior experience of at least three (3) years implementing activities in education, game development or crime prevention, criminal justice and other rule of law aspects);
have a bank account; and
involve secondary students and educators in all stages of the application and development of activities.
Individuals are not eligible for a grant. Applicant organizations are strongly encouraged to involve game developers.
Only one (1) application per proponent may be submitted.
Youth and stakeholder participation
The development of games must involve:
Young people aged 13-18, at the design, development and pilot testing phases of the games; and
Education professionals, such as teachers and social workers or psychologists involved in education, from inception/conceptualization to piloting.
Types of games
This Call for Proposals is open for the development of any non-electronic game deemed by the proponent as appropriate to educate on one or more of the areas defined above.
There is no restriction or requirement with regard to gameplay complexity and examples could be as simple as a memory card game or as complex as a board game using strategy, trading and negotiation and multiple different parts.
Games should also promote interaction between youth aged 13-18 and foster critical thinking around UNODC mandate areas and be suitable for the classroom environment as well as outside of school.
Award amounts
Proposals with budgets ranging from USD 5,000 to USD 10,000 will be considered for awarding. Please note that the value for money will be assessed as a part of the rating criteria.
As a general rule in UNODC, grant awards should normally not exceed a monetary limit of 25% of the entity's annual income. This limit will be checked when making the final decision.
Prospective applicants will find additional information in the documents listed below:
For More Information:
Visit the Official Webpage of the UNODC's Education for Justice (E4J) initiative