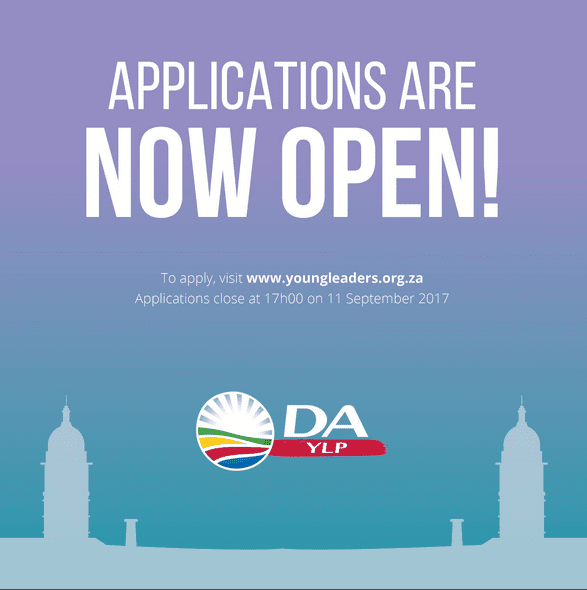 Application Deadline: September 11th 2017
The DA Young Leaders Programme is deeply grounded in the DA's vision for South Africa. The Programme seeks to develop and grow our country's future leaders responsible for upholding this vision of One Nation with One Future, and our core values of Freedom, Fairness and Opportunity in politics and government.
The Young Leaders Programme is an intensive, yearlong, part-time political leadership development course, known around the world as the gold standard in political development. The Programme strives to give passionate, young South African leaders the opportunity to develop themselves to their full potential, irrespective of their background.
The DA's Young Leaders Programme (YLP) is a political leadership learning and development programme for South Africans between the ages of 18 and 35 who align themselves with the DA's values of Freedom, Fairness and Opportunity. Participants of the programme are highly motivated individuals, interested in pursuing a career in politics and public service, with the aim of creating One Nation with One Future.
Over the course of one year, participants of the programme will be given the chance to broaden their political knowledge, critical thinking and communication skills. Participants will also get to know themselves, and their personal leadership style and development needs a lot better during dedicated sessions on leadership and personal development. In addition, The Young Leaders will be required to conceptualise and undertake a leadership project, giving them a unique opportunity to expand their influence, self-awareness and emotional maturity, so that they can become dynamic, resilient leaders who are able to tackle politics on the national stage.
Requirements:
The YLP is open to all young South African citizens between the ages of 18 and 35, with a track-record of leadership excellence.
These applicants must share the DA's vision and must have proven themselves to be passionate leaders set on making a difference in South Africa.
Participants must either be living in South Africa, or if they are temporarily abroad, be returning to South Africa in time for the start of the programme.
The Young Leaders Programme does not cover international traveling costs.
Young Leaders typically demonstrate many of the following characteristics:
A Personal ideological alignment to the DA's vision of One Nation with One Future, rooted in our values of Freedom, Fairness and Opportunity;
A high level of interest in, and knowledge about, South African politics and current affairs;
An excellent understanding of the DA's principles and policies;
A demonstrable leadership track record;
Examples and evidence of having taken initiative, stepping outside normal roles to start something new;
The ability to argue and reason well;
Passion, drive and confidence;
An authentic motivation to be actively involved in politics in future;
A high level of self-awareness, maturity and emotional intelligence;
Involvement in the DA.
Programme Details:
The YLP is a part-time course, allowing participants to continue with their normal occupation while on the programme. It runs annually from February to November. That said, the Programme is rigorous and time consuming in terms of its requirements and assignments.
During the course of the year, the entire Class of Young Leaders will meet for five weekend-long retreats. In between retreats, Young Leaders should be prepared to commit time out of normal work or study hours to complete programme assignments, meet with mentors and leadership coaches, and develop and manage a leadership project in their communities.
The preferred method of communication is e-mail: [email protected].
Alternatively, you can call the Federal Head Office at: 021 465 1431.
For More Information:
Visit the Official Webpage of the DA's Young Leaders Programme (YLP)