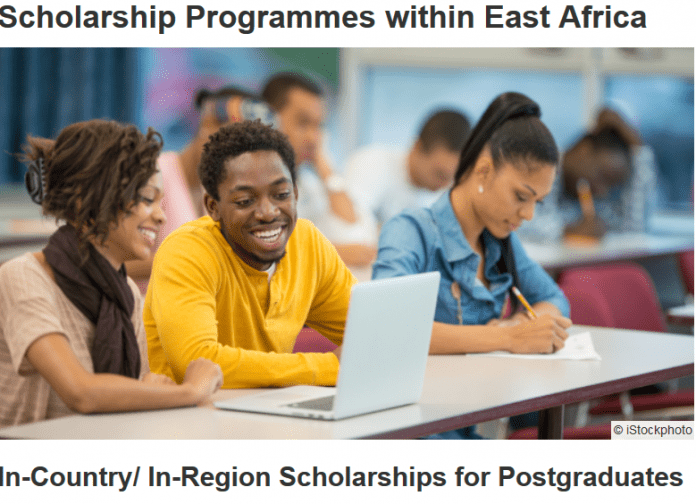 Application Deadline: Ongoing
The objective of this DAAD Scholarship Programme is to promote the development of university teaching staff in universities and build capacity for staff in the public sector through postgraduate training in selected postgraduate study programmes at the institutions listed below.
This programme strongly encourages mobility of East Africans within the East Africa region. We therefore strongly recommend applicants to apply to institutions outside their home countries.
Applicants should apply to the institution of their choice for both the admission and the DAAD scholarship, using the contacts and the procedure prescribed at the institution's website. The institutions have set their own deadlines that need to be followed. All applicants will be notified about the outcome of their application. Only shortlisted candidates will get access to the DAAD Online Portal to finalize the scholarship application.
Value of Scholarship:
University tuition fees
research allowance
monthly stipend
travel allowance (where applicable)
health insurance (where applicable)
and the possibility of a study visit of up to 6 months to Germany within the period of the scholarship.
Postgraduate Programmes eligible for In-Country/ In-Region Scholarships in Eastern Africa, 2019/ 2020
Communication, Computer Science and IT
Engineering, Technology, Urban Planning, Environmental and Resources Management
Health Sciences, Medicine, Psychology, Veterinary Medicine
Law
Mathematics, Economics, Business, Management
Natural Sciences (Biology, Chemistry, Physics, Agriculture, Horticulture, Forestry, Earth Sciences, Natural Resources, Food Science)
Social Sciences, Governance, Development, Education
General information on the In-Country/In-Region Programme
www.daad.de/incountry-inregion
Master's Programme in German Studies at the University of Nairobi
In light of the increasing demand for qualified university lecturers in Sub-Saharan Africa, the programme aims at training young African graduates of German Studies to qualify for a career as teachers of German and preparing them for an academic career as well.
Application requirements
(i) A Bachelor's degree in Germanistik or DaF (in the major or minor)
(ii) Language proficiency (German language skills) at level B2
What can be funded?
Participation at the two-year Master's Programme in German Studies at the University of Nairobi incl. a research stay beginning of the second year at one of the German partner universities (TU Dresden, U Bielefeld, U Bayreuth or U Oldenburg)
Duration of the funding
24 months altogether, to start on 1st October every even year.
In the first instance, an award of 12 months is granted, a renewal of another 12 months can be applied for at a later date.
Value
 Monthly stipend of 240 Euros (for Kenyans) or
 Monthly stipend of 380 Euros (for Non-Kenyans)
 University fees
 Annual research allowance
 Insurance (only for Non-Kenyans)
 Travel allowance (only for Non-Kenyans)
Selection
Only students who are admitted to the Master's programme may apply for a DAAD scholarship. Application for admission is done online: https://application.uonbi.ac.ke/index.php/CourseApplication/viewdetailslogin?deg_code=C531
An independent selection committee consisting of experts in the field will review applications. After a preselection the best candidates will be invited to submit their application via the DAAD portal An interview by DAAD Office Nairobi (if applicable via video or telephone conference) for final selection will follow.
Criteria for selection are academic achievements, proficiency in German and a convincing explanation of professional and personal reasons for choosing this study programme.
Deadline: tba
Contact:
German Academic Exchange Service, Regional Office for Africa
Madison Insurance House, 3rd floor, Upper Hill Close
P.O. Box 14050
00800 Nairobi
Kenya
E-Mail: [email protected]
For More Information:
Visit the Official Webpage of the DAAD 2019/2020 In-Country/ In-Region Scholarships for Postgraduates in Eastern Africa