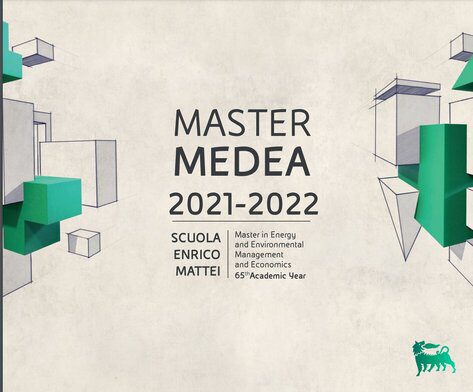 Application Deadline: 18th April 2021

Launched in 1957 to educate professionals who would go on to join Eni, the MEDEA Master's was the first high-level, post-graduate training course of its kind in Italy and today has become a reference point for the energy sector.
As has been the case since the course began, we are looking for young men and women with a passion for energy and the environment and the desire to build their own future. Eni offer a 10-month study programme in a cutting-edge international environment in which students can acquire the very latest knowledge from university professors, managers and experts from Eni, while meeting fellow students from all over the world. An adventure and an investment – in yourself and in a team.
The Master
The MEDEA Master is an MBA course aimed at graduates with degrees in technical, scientific and economic disciplines, both from Italy and internationally, and at those already working in the energy and environment sector wanting to gain a more in-depth understanding of these areas. The course is focused on the themes of energy and the environment and takes an international and interdisciplinary approach.
The academic staff includes an internal team and professors from leading Italian and international universities, along with experienced managers and experts from Eni. The teaching is made up of lectures, blended learning such as flipped classrooms, which combine online study and classes, case studies, learning by doing, project work, seminars and conferences, as well as onsite visits.

Starting from academic year 2020-2021 Master MEDEA is organized in collaboration with University of Pavia, in order to provide students with a legally recognized diploma. The Master's runs from September to June at Eni Corporate University in San Donato Milanese. The courses are delivered in English and require full-time attendance. They generally start mid-September and end on 30 June. For non-Italian students, there will be an intensive Italian language course during the summer before the course starts. Successful graduates will be awarded the Master's Degree in Management and Economics of Energy and the Environment (MEDEA).Admission requirements
Italian candidates must:
hold an Italian degree with a final grade of 105/110 (or 95/100) or above, obtained in economics or engineering, or an equivalent academic qualification from an international institution
be younger than 28 on December 31 of the year in which the Master's course begins
have excellent English language skills
Applications are accepted from Italian candidates who are expected to graduate in the July preceding the course start.
Non-Italian candidates must:
hold a degree from a recognised university, obtained in economics, engineering, mathematics, physics, chemistry, geology, statistics
be younger than 32 on December 31 of the year in which the Master's course begins
have excellent knowledge of English
All the details about formal requirements are available on the University of Pavia website 
Scholarships
Every year, Eni offers a number of full scholarships that cover the cost of the MEDEA Master's (worth €25,000) including teaching materials, the use of company canteens and a monthly cash allowance. When awarding the scholarships, the examining committee will assess the university qualifications of candidates, along with any other academic achievements and professional experience.
Academic or professional experience in the Oil & Gas sector will be given the appropriate consideration. Individuals selected independently by Eni's international subsidiaries are also eligible.
For More Information:
Visit the Official Webpage of the Eni-Medea Scholarships 2021/2022