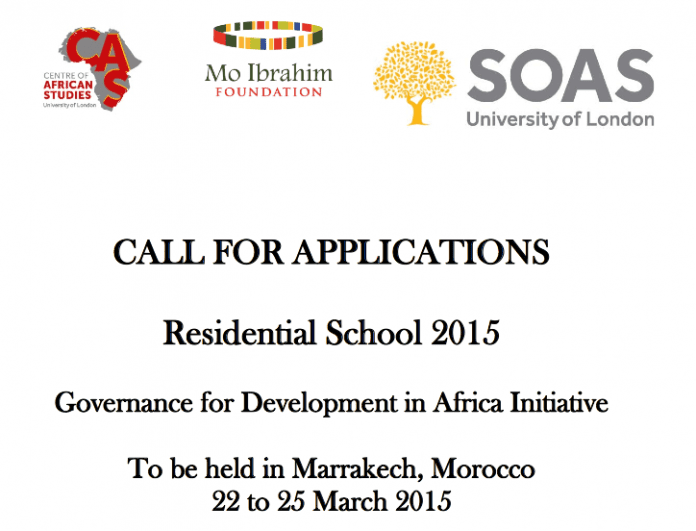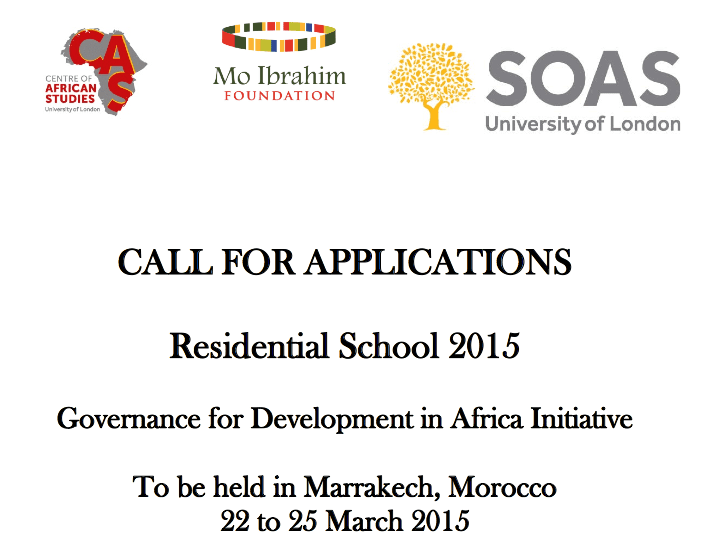 Application Deadline: 31st December 2014
The Mo Ibrahim Foundation in association with School of Orientals and African Studies (SOAS) and the Centre of African Studies, University of London is organising a Residential School in Marrakech, Morocco, 22nd-25th March 2015
The residential school is for 20 participants who are policy makers, academics, researchers or civil society representatives from any African country who will gain, through this training, new ideas and knowledge on the broad issue of governance and development. Applications are encouraged  from a wide range of backgrounds.
Eligibility Requirements:

Applicants should have at least a Masters degree in areas related to Governance or 5 years professional experiences in fields relevant to the theme of Governance and Development in Africa.
Preference is given to applicants from North and West Africa.
The official language of the School is English, however some sessions will be in French, therefore applicants with a knowledge of both English and French are encouraged to apply.
Cost:
All costs for successful applicants, including economy flights, accommodation and meals, will be covered.
No per diem.
Application:
Applications should include:
2 page max CV (including email address for correspondence)
One reference letter ( can be emailed directly by referee)
Proposal of max 1500 words outlining research interest and /or professional background and how the applicant will benefit from attending the Residential School
Deadline for applications: 31 December 2014
To be sent electronically:
Angelica Baschiera
Centre of African Studies SOAS –
University of London
Thornaugh Street, Russell Square London WC1H 0XG
Tel.: +44 (0) 207 898 4370
For More Information: