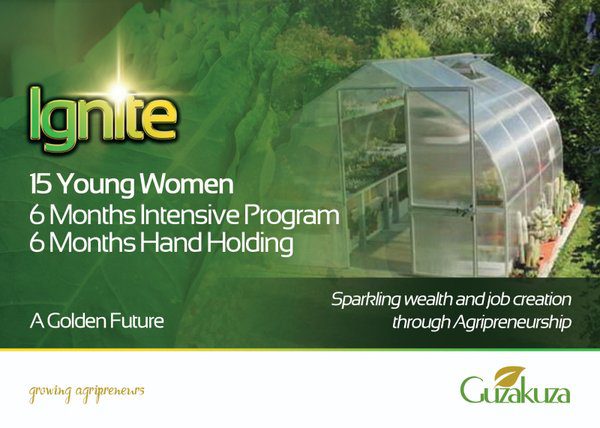 Application Deadline: July 3rd 2016
Guzaku are now officially accepting applications for the 2016 Ignite Agribusiness Programme! Ignite is an Agribusiness programme designed to spark creation of jobs and wealth in young women through Agripreneurship.
Ignite nurture and turn their ground-breaking ideas into profitable and sustainable Agribusinesses. businesses are expected to become sustainable businesses producing value added goods and services that can not only bring high financial returns, but also increased employment to others, creation of demand for agricultural produce and more export opportunities.
Who becomes Guzakuza-Ignitor
• The programme is designed for young woman graduates less than 35 years
• Must have a tertiary qualification with at least a formal diploma or a higher tertiary qualification
• Available to go through the entire program .
• Must have a burning desire to start own Agribusiness after program
• Must have a GUZA idea (Great,Unique,Zealous, Achievable).
Scholarships available

The overall aim of this scholarship is to help increase both the number and the competencies of skilled Agripreneurs in Ghana. Therefore there has to be a clear need for this program by applicants.
The scholarship is a contribution towards your costs of living, the costs of tuition fees, travel(related to programme) the participant is expected to cover her personal costs.
The scholarship is awarded in a very competitive selection to highly motivated applicants who are in a position to start their Agribusinesses with the newly-acquired skills and knowledge .
Eligibility Check
Only a maximum number of candidates can be considered for a scholarship based on the following checks. If your application does not meet the eligibility criteria it will be rejected regardless of any effort, time and money you put into it.
•    the degree to which you fit into the target group of the programme
•    How potentially profitable and sustainable your Agribusiness idea is.
•    how well you would be able to implement the newly-acquired knowledge in your Agribusiness;
•    how well your plans for your agribusiness are described and how easily they can be implemented.
•    If there is a potential for real impact and change in your community.
•    No one else is already doing this work in this exact same way.
Application procedure
Procedure
Timing
Application opens: May 15th, 2016
Application Deadline: July 3,2016
Telephone interview with shortlisted candidates: July 4-5,2016
In person Interviews: July 6-7,2016
Final candidates selected and Offer issued: July 8 ,2016
Application requirements:
All candidates must submit the following required documents online:
Filled form
Agribusiness idea
Curriculum Vitae
3 references (2 professional and 1 personal.)
After the selection
Apply Now for the Guzaku 2016 Ignite Agribusiness Programme
For More Information:
Visit the Official webpage of the Guzaku 2016 Ignite Agribusiness Programme